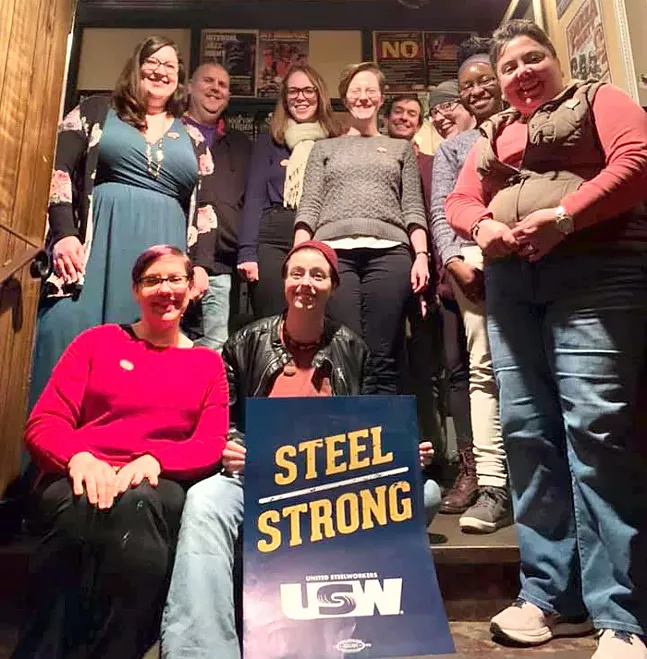 The new wave of unionization in Pittsburgh isn't mirroring that of Pittsburgh's labor history. Back then, labor rights were associated with blue-collar jobs in heavy industry. Today, it's white-collar professions in services and technical fields, including library workers and
software engineers
.
Yesterday, human service workers at the
Persad Center in Lawrenceville
voted to unionize. The unit of 24 workers — including therapists, program coordinators, case managers, and administrative staff, all focused on serving the
LGBTQ
and HIV/AIDS community in Pittsburgh — announced its intention last month to file for a union election with the National Labor Relations Board. The Persad workers organized with the United Steelworkers (USW), which represents more than 850,000 members nationally.
A breakdown of the vote was not included in the press release. USW spokesperson Alyssa Liberman didn't provide a specific vote, but said it was "overwhelmingly supportive."
"We care about our work and the communities we serve," said Persad events associate Johanna Smith in a press release. "We strongly believe this work and our connections to our clients will only improve now that we will be represented by a union."
The 24 new union members join the more than 400 other white-collar workers that have organized unions with USW, including staff at the
Carnegie Library of Pittsburgh
and HCL Technologies, which provides services and completes projects for
Google
.
USW said in a press release they were glad to support
Persad
workers, as their membership is in line with USW's recent push to engage LGBTQ members.
"Workplaces are changing and evolving, and the labor movement is changing and evolving along with that," said USW Vice President Fred Redmond in a press release. "This campaign gives us an opportunity to diversify our great union while uplifting and empowering a group of workers who give their all for others."