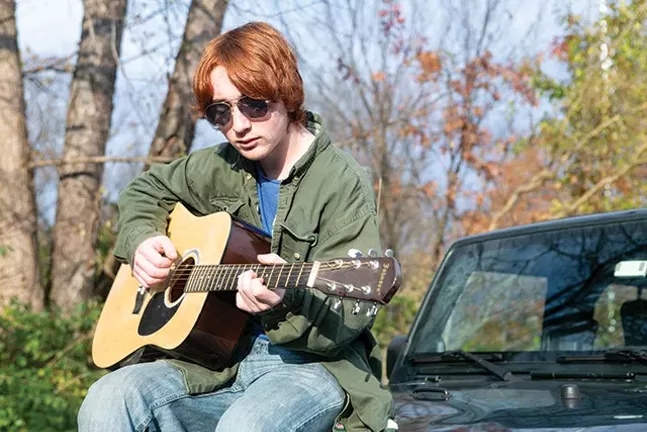 Woodland Hills high school senior Eli Alfieri credits the school's music program for aiding his musical explorations. But an even bigger influence on Alfieri's music are the violent incidents that have riddled the school and the surrounding community over the past two years, including the June 19 shooting of Woodland Hills student Antwon Rose by an East Pittsburgh Police officer.
The 18-year-old artist is using music as a means of coping and connecting. Lyrically, he believes that the Top 40 hits played on the radio lack meaning, something Alfieri focused on when writing and recording his first album The Heart of the Sun, which was released in September.
"The message behind the songs on the radio are about materials things – cars, money, girls or boys," Alfieri says.
To promote The Heart of the Sun, Alfieri is having an album release show Nov. 24 at The Mr. Roboto Project with three other local young bands: rock and roll group Daisy Chain, psychedelic indie band Pachyderm, and feel-good indie pop group The Petals. All of the 20-something bands have a Woodland Hills connection.
Alfieri recorded The Heart of the Sun alone in his attic, where he felt the acoustics are best. The goal was to make the songs sound as raw and pure as possible, resulting in a simple guitar-soaked eight-track album that sounds easily duplicated – which was the point.
"I really wanted the album to sound almost homegrown," Alfieri says, "and sound like anyone could do it, and not in a bad way. To show that it doesn't take thousands of dollars or a big-time producer to make music. On the radio, there are a lot of technicians and technology behind [the songs], and it doesn't sound like something where you could be like 'Oh, I can do that.'"
Using a Fender acoustic and Johnson dreadnought guitar – the electric sounds played from a Fender Telecaster – Alfieri recorded the tracks over a four-month period during his summer break. He started the project in June after the Rose shooting, taking about three months to write. The only part of the album not completed by Alfieri was the mixing. Once he finished the album, Alfieri was unhappy with the way it sounded, so he sent the music to Audio Science Mastering, a studio in L.A.
"They touched it up so it was borderline radio quality," Alfieri says.
However, Alfieri prides his music on packing more substance than the songs that typically do well on the radio. He feels that too many popular songs just sound like bragging.
"I'm trying to do the opposite of that. With the spread of technology and social media, it seems like everyone is constantly comparing themselves to one another," says Alfieri. "It's easier than it ever was before to see if someone is better than you. So I think that trying to spread a message about things that really aren't comparable – like happiness, love – it sounds cheesy, but it's important, at least to me."
Unfortunately, it's not easy for a new and budding artist to get their music heard. Alfieri described the music industry as a "big castle with a moat and all these things guarding it." Just finding a venue that would allow him to perform proved extremely difficult.
Luckily, Pittsburgh has places like DIY show space The Mr. Roboto Project, which, intentional or not, adds to Alfieri's message that creating and performing live music is not an exclusive endeavor.