What with MTV's "Spring Break" specials, YouTube exhibitionism, and of course the decades-old depravity of the sock hop, it's amazing any of our school-aged young people emerge with their virtue intact. There isn't much we can do about these mass-culture influences on our young people's behavior, but there is something we can do to improve their moral environment: Clean up the cesspit known as Oakland, where so many of our educational institutions are housed.
It's not the activity in the bars or at off-campus parties that concerns us here: It's how libertine behavior is enshrined in the area's very art and architecture.
Let's start with "A Song to Nature," the statue near the entrance to Schenley Park. According to the book Discovering Pittsburgh's Sculpture, no one was under any illusions about this statue's agenda: From the outset, the work was described as "a happy combination of poetry and passion," and it features a bare-breasted woman holding a lyre, with her robes swirling down about her waist. At her feet sits the god Pan, Lord of Horny Frat Boys, who ogles her like she was a drunken Kappa. His leg, ending in a cloven hoof, seems to be wrapping itself around her.
click to enlarge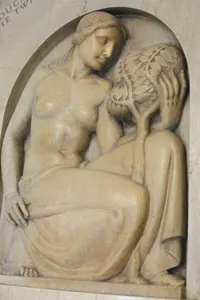 Just inside Schenley Park itself, meanwhile, is Phipps Conservatory, a veritable hothouse of degeneracy. A bevy of nude statues are housed here, including representations of the gods Venus and Mercury capering about starkers. (And while we're on the subject, isn't it about time some of those orchids were put in an adults-only section? Georgia O'Keefe painted them for a reason, people!)
The smut enshrined inside the Carnegie Museum of Art is detailed elsewhere in this issue, and it would be one thing if such images were kept indoors. But even the museum's exterior acts as an advertisement for perversity. Note, if you will, the sculpture of Michelangelo, one of four cultural figures commemorated in sculptures by John Massey Rhind near the building's Forbes Avenue entrances. It was, of course, Michelangelo's "David" who helped legitimize anatomically detailed sculptural displays of the human body. This sculpture only multiplies that shameful legacy by including a miniature version of the artist's "Dying Captive."
Sure, the figure's crotch is featureless, as barren of surface detail as a stone worn smooth by the river (or, more likely, by the groping of some sweaty-handed artist). And yet, as this homunculus writhes beneath Michelangelo's hand, surely we're not the only ones who see traces of B&D play and midget fetishism. (Are we?)
click to enlarge
To display these images in public, where anyone can see them, is arguably bad enough. But some of these images actually target our children. Even the Board of Public Education building -- the headquarters of our efforts to instill values in our children -- features a sculpture of a shockingly topless female figure in the building's lobby. This wanton wench crouches over a small tree, her torso exposed -- apparently a monument to former superintendent William Mehard (!) Davidson, given to him by his former employees. Despite the quotation from Alexander Pope inscribed above, this whole work is about as subtle as, say, Van Halen's "Hot for Teacher" video.
More disturbingly still, during a subsequent conversation with City Paper's photographer, schools superintendent Mark Roosevelt acknowledged that he had never even noticed this display, even though it was in the lobby of his own building. Could the case be any clearer for taking sex education out of the public schools now, before it is too late?