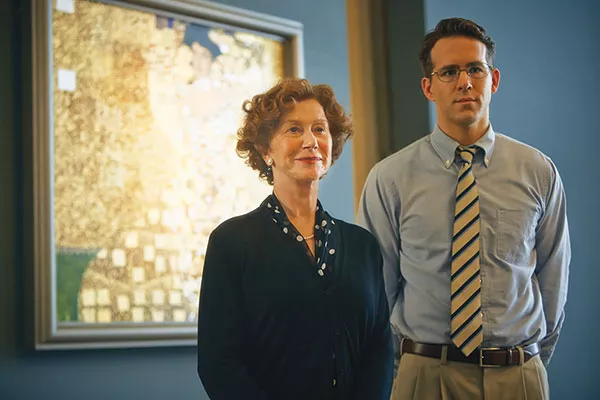 Based on a true story, Woman in Gold revolves around the efforts of Maria Altmann (Helen Mirren) to get the Austrian government to return to her a shimmering gold-leaf portrait of her aunt that was painted by Gustav Klimt in the 1920s and taken by the Nazis. She seeks help from Randol Schoenberg (Ryan Reynolds), a young lawyer, and their battle takes them before the U.S. Supreme Court and an Austrian tribunal that eventually agrees with her.
Simon Curtis' film is about a young man looking ahead at his life, an old woman looking back, and how they form a warm friendship played out in gentle conversations. For Mirren, it's light duty, and wisely, she doesn't try to elevate it. For Ryan, it's a small breakthrough, proof that he can act with his shirt on, although in the end, his casting is fungible.
But the drama finally comes to feel like a compacted TV movie, reverential in its edification (and vice versa). "Why don't you people leave the past alone," a middle-aged Austrian man snarls at the elderly Maria when she visits Vienna. "Not everything is about the Holocaust." Except, of course, that in one way or another, it is and always will be.