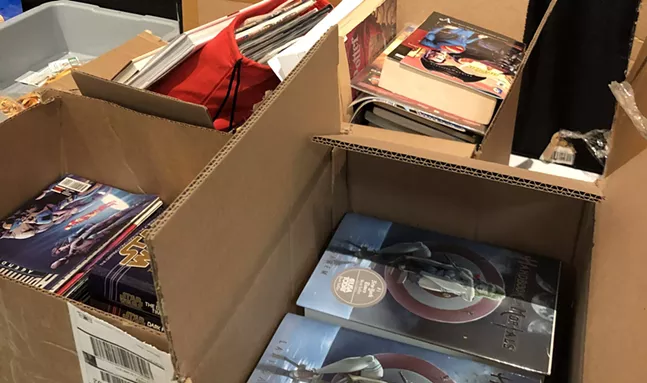 Get ready to wave your wand and put on your superhero cape, because the
Wizard World
convention is headed to Pittsburgh for a third time from July 26-28. After a three year gap – it had two previous runs in 2015 and 2016 – the ComicCon-style convention is not only bringing celebrities, games, and cosplayers to the David L. Lawrence Convention Center, but also a book drive benefiting the local charity Book 'Em.
Book 'Em, a volunteer-based project from the Thomas Merton Center, collects and sends free educational books and quality reading material to prisoners and prison libraries in Pennsylvania. Book 'Em states that its mission is "to turn the time served in prison into a period of growth and education."
Wizard World public relations head Jerry Milani says that the convention has been working with organizations to collect book donations in each city it's visited over the past year. As a convention that celebrates all things pop culture like film, TV, and comic book series, giving back to communities in a culturally informative way is a priority.
"We identify a local group in every city we visit. Sometimes it's a kids' group, sometimes it's for schools," Milani says. "We want to connect with every community that we're in, so we ask the fans that are attending our shows to bring books with them to the door."
What attracted Milani and Wizard World to Book 'Em were the similarities between the types of books needed for prison libraries and the books Wizard World fans tend to read, such as graphic novels, fantasy and sci-fi, and comic books.
Milani says thousands of guests attend each Wizard World, and many of them are excited to donate books to share the stories that have brought them joy and entertainment over the years.
"A lot of the kinds of books that [Book 'Em] wants are books that are fans love also," Milani says.
Wizard World attendees can leave books in a specially marked donation receptacle near the Special Guest Registration desk in the David L. Lawrence Convention Center. Those who donate two or more items to Book 'Em will receive a free, pre-autographed celebrity photo from a selection of previous Wizard World guests.
While the photos are a nice incentive, Milani says fans are usually just excited to give back.
"Mostly, they just want to donate the books ... they want a place for their old books to go," says Milani, "but we do offer a little thank-you."