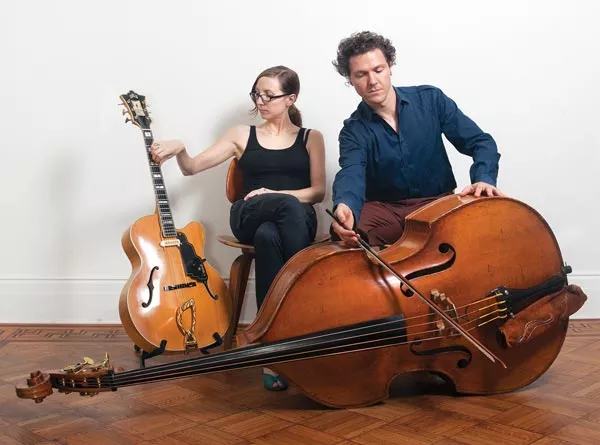 The month of April was declared Jazz Appreciation Month nearly 14 years ago by the Smithsonian's National Museum of American History, with the help of musician/producer Quincy Jones.
In the ensuing years, the designation has stirred up some healthy debate: Does a mere 30 days reduce this gratitude to lip service? What part of jazz are we appreciating — the classics that paved the way, or the current players who are still expanding the tradition?
In a remarkable display of synchronicity, this April includes visits from national acts that know the traditions and refused to be limited to them.
Pianist Matthew Shipp, who comes to the First Unitarian Church on April 1, combines classical skills with avant-garde jazz, lyricism and a bold attitude. Known for speaking bluntly, Shipp says that too often the music looks back instead of looking forward. "All jazz needs to be organic," he explains. "And by organic I mean, just let people do what they do, whether it's straight ahead or avant-garde."
On April 7, City of Asylum presents a performance by Secret Keeper, the duo of guitarist Mary Halvorson and bassist Stephan Crump. The epitome of busy New York musicians, both lay claim to a long list of projects and accolades.
The improvisations that made up Secret Keeper's Super 8 album are notable for both their brevity and deep communication. Crump "came to a gig that I did and introduced himself," Halvorson says. "He said, 'We should get together and play,' which is something musicians always say and usually doesn't really happen. But in this case, we followed up on it and that's when we recorded that first record." Their new album, Emerge, features compositions by both musicians, which they'll integrate in performance with improvisation.
Geri Allen is an alum of the University of Pittsburgh, where she now serves as director of jazz studies. Her band Timeline, appearing on April 11 at the Kelly-Strayhorn Theater, should impress with the addition of tap-dancer Maurice Chestnut to the rhythm section. But things will get pushed up a notch with help from saxophonist JD Allen. The tenor player can unleash a flow of ideas that seems to channel the vision of John Coltrane, coupled with the groove that Allen heard growing up in Detroit.
In his lifetime, saxophonist Fred Ho was a dynamic personality, fueled equally by politics and music. He considered the word "jazz" derogatory, but combined the influence of Charles Mingus with Asian folk music, leaving room for covers of cartoon themes and Michael Jackson hits. Ho died from cancer last year, but his music lives on with the Afro-Asian Music Ensemble, which performs on April 23 at First Unitarian Church.
These are just a few of the things happening not only this month, but in a season that's already been ripe for improvised music in the Steel City. While the appreciation can extend beyond April, this is a good place to begin.