Ask Punchline's Steve Soboslai and Chris Fafalios if they considered a new band name for their surprisingly clean, pop-driven new record Thrilled, and the answer comes quickly: "Absolutely not."
"Punchline is us," says Soboslai, the guitarist and lead singer since the bands' inception in 1997. "We're us, and our songs are us, so it should still be perceived as us."
For almost two decades, Punchline has consistently released catchy, energetic, patently sincere albums in the realm of "pop punk" — if you're into that sort of label, which, as you might imagine, Soboslai and Fafalios are not. With Thrilled, the Pittsburgh-bred band continues in that vein, minus a little distortion, with a few electronic elements added in. There were no preconceptions for a new sound, no grand design for a rebrand.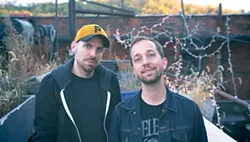 "We just chose the 10 best ideas we liked at the time and recorded them," says Soboslai. "They are what they are."
This Friday, Punchline returns to Pittsburgh at the Altar Bar for its first hometown show since 2013. The line-up featuring drummer Cory Muro and new guest guitarist Trevor Leonard, and a set list spanning the band's whole career, says Fafalios.
Punchline is still Punchline, but Thrilled does offer some firsts. It's the band's first release on InVogue Records, as well as the first written solely by Fafalios and Soboslai, after the departure of guitarist Paul Menotiades and Muro after 2012's So Nice to Meet You. With Soboslai now living in Nashville and Fafalios in Belle Vernon, many of the songs were written remotely, with the duo exchanging ideas over email.
"Steve would tell me, 'Here's the BPM for this song and here's the key for this song, just send me whatever you come up with,'" says Fafalios. "One of our songs on the new album, it just fit perfectly."
That song was the energetic single "No Stopping Us," which features Fafalios singing the chorus — another first — but it's classic Punchline stuff: driving beat, diverse instrumentation, big singable chorus. It'd be hard to call it a departure. Maybe it's just age.
"People have grown up with us," says Fafalios. "And we've grown up with this band."