After the first time I saw Deafheaven, my thighs came away from the show with a horizontal indent running across them. That's as high as the stage went at the Rock and Roll Hotel in Washington, D.C. The battle scars weren't caused by the reckless abandon of your average mosh pit, but from the entire crowd pushing against me from behind — they were trying to be near George Clarke, the band's lead dynamo.
On stage, he's a magnetic presence, with the sharp gesticulations of a conductor, but one who isn't afraid to come within inches of listeners' faces. Clarke's ferocious charisma is the only thing up there that matches the sheer hell coming from the speakers — his other bandmates seem largely unperturbed by it all. It takes a full room of frenzied Deafheads (jury's still out on an official fan name) to produce the bruises that I endured, but there wasn't anything unpleasant about it. A Deafheaven show trades in group catharsis the same way a punk or emo gig might, although strangely, there's a more powerful bond of cohesion with a group of people who scream along to inscrutable lyrics if you haven't checked out the liner notes. I avoided the indent when Deafheaven came to the Rex Theater two falls ago, but the band's unconventional metal bowled me over all the same.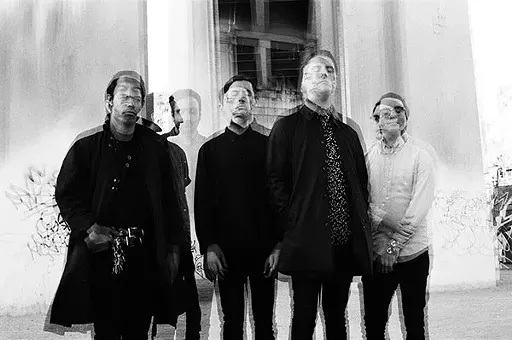 That break from convention has caused a passionate and not insignificant sect of the metal community to turn on Deafheaven and tag it as not metal enough or, more commonly, "hipster metal." On this spring's tour opening for Lamb of God and Anthrax, Clarke and the gang stand to earn a considerable badge of honor in the metal world — while also playing before large crowds of both purists and potential deriders. But in order to open for two of the more successful metal acts of all time, the band must have won over a few skeptics along the way.
2013's pink-covered, glimmering Sunbather rocketed Deafheaven into the tastemaking consciousness and atop many a year-end list. Notable for its lush and unrelenting blur of shoegaze and black metal, the record found Clarke cautiously clamoring for a more affluent life. After the band achieved a comfortable level of success with that record, last fall's New Bermuda upended any expectations with a charred, hulking beast of an album. It's the group's most quintessentially metal release yet, even while Clarke retreats further into his own mind to reflect on the lifestyle changes Sunbather hath wrought.
Earlier this decade, before Deafheaven had released its debut LP, Roads to Judah, Clarke and guitarist Kerry McCoy slept on the floor in a too-modest-for-comfort San Francisco apartment. In between Sunbather and New Bermuda, Clarke moved to an upgraded place in Los Angeles with his girlfriend. His unease with the new location best manifests itself on "Luna," when Clarke screams of his new home, "I've boarded myself inside. I refuse to exit / There is no ocean for me / There is no glamour." He assures me via email that things have gotten better since writing that song, and that it was largely born from adjusting. "'Luna' dealt with not only the transitional period I was going through, but also the boredom I was facing on a day-to-day basis, which led me to feeling depressed," Clarke writes.
Aside from the financial gains post-Sunbather, Clarke and the band have also attained some lineup stability after touring behind that record. Dan Tracy, who drummed the hell out of Sunbather, has joined Clarke and McCoy as a full-time member. Shiv Mehra and Stephen Clark, who also toured after the sophomore record, have since joined on as regulars. Now a steady five-piece, Deafheaven seems to have really locked in a groove with New Bermuda.
Choosing a favorite between the two albums seems impossible at this juncture, but it's hard to dispute that New Bermuda sure feels like a more accomplished effort. Although it finds the band exploring a significantly bleaker palette than Sunbather, Deafheaven's penchant for sweeping, push-pull dynamics remains intact — but now the lulls explode at more natural points, and the climaxes hit with twice the force. It's a heavier album for sure, but that could be expected of an expanded roster. The finesse is what makes it such a thrilling follow-up.
No track on New Bermuda represents Deafheaven's malleability better than its closer, "Gifts for the Earth." As an unabashed homage to Oasis, complete with tambourines and acoustic guitars, "Gifts" forges a new path forward — not necessarily to an entire album of black metal and Brit-pop, but to uncharted territory for forthcoming albums. Given how easily Deafheaven eschewed shoegaze for this outing, we should take it seriously when Clarke suggests that more exploration could be on the way. "Now that this record is done and we've found a stride, we can be more comfortable with taking creative liberties — which is only positive."