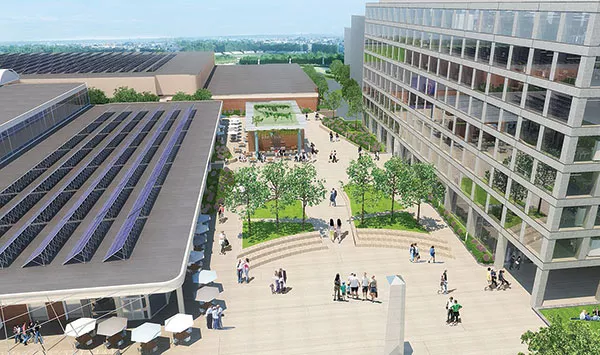 The historic core of the North Side, old Allegheny City, did not disappear gradually. By 1960s, the decades-old commercial area within Allegheny Commons was coming down rapidly, to be replaced by the sprawling, inward-focused Allegheny Center Mall and a handful of widely spaced, undistinguished office and residential towers. Within just a few years, a complete reconfiguration removed nearly all inner streets and converted the perimeter of the street grid into a (still square) high-speed loop.
Though this area was re-imagined as a Modernist utopia, it, like arguably all of the North Side, never regained its previous vitality. Allegheny Center Mall itself faltered as a retail enterprise, but eventually subsisted as an office building, albeit one with a ghostly sense of underpopulation. Recently purchased by Faros Properties, of New York, it is now the focus of a substantial renovation and rebranding as Nova Center, a high-tech hub. New tenant leases show promise. The question remains whether planned changes will alter the architectural quality of the mall and improve the fate of the greater neighborhood.
In 2006, the Children's Museum of Pittsburgh's Charm Bracelet Project commissioned several urban-design brainstorming initiatives to re-imagine places and events on the North Side. Doug Suisman, an internationally known, California-based planner hired for the project, suggested that the North Side would benefit substantially if planners would put the old street grid back in place, even if the return of Federal Street necessitated slicing through the middle of Allegheny Center Mall. However, citing the mall's sizable and costly underground parking garage, as well as its substantial communications infrastructure, Faros managing partner Jeremy Leventhal argues that such a dramatic and expensive cut "is not the best way to make improvements."
Leventhal understands the paradoxical nature of the building. "The original construction of the project [in the 1960s] did cause a lot of problems," he admits in an interview. "It was not well thought out." Nonetheless, he says, "in our view, it is a state-of-the-art office complex." It's also "one of the largest and most significant urban-renewal projects close to a downtown in the U.S."
Faros is making some convincing headway in community outreach and a broad spectrum of incremental alterations. "We are listening to people who have been in the community for a long time," says Leventhal. Chris Siefert, deputy director of the Children's Museum, appreciates the comparatively novel approach. "They've been very open with us," he says. An early result of the communicative approach is that, in October, Nova Center will collaborate with the Children's Museum to host tech festival Maker Faire on the mall's vast, soon-to-be redesigned plaza.
And the roster of planned and possible changes is considerable. Leventhal rattles off a continuing list. "We've thought about wayfinding ... placemaking ... community [buy-in] ... pedestrian traffic ... bike lanes ... green spaces ... retail uses such as restaurants," he says. Faros has hired three different local architecture firms — Strada, Desmone Associates and Perkins Eastman — to work on different elements of the complex. "Just in terms of capacity, there's a lot to work on," says Leventhal. The multiplicity of firms "allows them to be more efficient [and to express different] viewpoints." And initial designs show a seemingly widened pedestrian path through the building along Federal Street's former axis, even if the full street is not reconnected.
Perhaps the real need for Allegheny Center is a redesign of traffic patterns and a return to two-way traffic in the ring around Allegheny Center, as East Liberty underwent with Penn Circle a few years ago. As Mayor Bill Peduto has said, "East Liberty took a decade before the streets started to become two-way again. ... What we need to do is start with a community process." Leventhal agrees, though he is hopeful that process will be faster.
With the elevated expectations of a high-tech hub and the mayor's echoing mantra, "Good enough is not good enough," one could still easily argue that one of the city's most difficult building complexes needs a radical redesign, with visionary plans from architects who are internationally recognized for innovation, the way architects Diller Scofidio and Renfro completely reconstituted portions of New York's Lincoln Center in two projects over the past 12 years.
Instead, we are getting a deliberate, incremental approach from a handful of local favorites. Not bad, but not as exciting as Allegheny Center's rebranding campaign asserts. Chris Siefert is willing to give current plans a chance. "It's hard to tell from the drawings," he says, "but I think it's going to be greatly improved."
Then again, if current plans do well, everybody wins. If they don't prove to be much of an improvement, it will always be possible to make more drastic alterations in the future. That's a bit of circumspection that old Allegheny City deserved but never received.