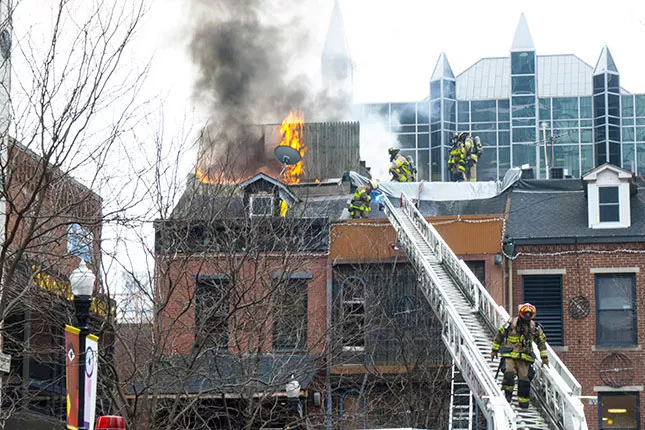 Today, just before noon, Winghart's in Market Square caught on fire, with visible flames coming out of the roof and dark smoke billowing from the popular whiskey bar in Downtown Pittsburgh.
The fire started at around 11:45 a.m., according to Pittsburgh public information officers, and Pittsburgh firefighters responded quickly. At 12:35 p.m., firefighters could be seen extinguishing the flames on the roof of the building with water hoses.
Pittsburgh Public Information Officer Cara Cruz said the fire was classified as a four-alarm fire, which means that multiple fire engines were needed to respond to the fire. Cruz said one firefighter was injured while responding to the fire and was taken to a local hospital to get treatment for heat exhaustion.
Cruz said the entire building that Winghart's is a part of has been evacuated, including the Primanti Bros. a few doors down. Cruz said it is unclear how the fire started.
"We can't make any assessment right now on how the fire started," said Cruz. "The firefighters' business is to get everyone out of the building."
This is at least the third time Winghart's in Market Square has caught on fire in the last several years. In 2014, the whiskey and burger bar was hit by a two-alarm fire that lasted 20 minutes. And in 2012, a one-alarm blaze hit the chimney of the bar.