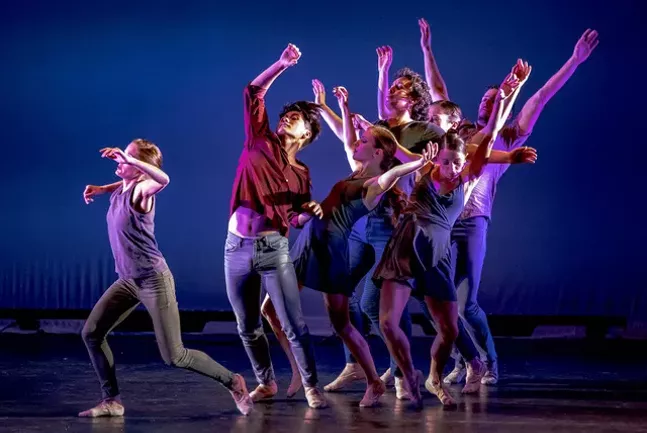 It's been a big year for Staycee and Herman "Soy Sos" Pearl. The husband and wife duo behind the STAYCEE PEARL dance project and PearlArts Studios recently won awards, mounted several successful productions, and have been commissioned by Pittsburgh Ballet Theatre to create a work for next season. Now the Pearls are embarking on one of their biggest projects to date, the weeklong pearlPRESENTS Dance Festival, June 3-9 at the New Hazlett Theater.
Instrumental in the creation of the newMoves Contemporary Dance Festival at Kelly Strayhorn Theater, Staycee is not new to mounting a dance event on this scale. She says the timing was right to highlight some of the collaborations the organization has developed with other dance companies and to create another performance platform for local dance artists to present work.
Included in the inaugural event are daily masterclasses, an artist brunch at Federal Galley, and Saturday night's post-performance pearlGALA catered by Black Radish with entertainment by DJ Orlando "Buscrates" Marshall.
Here is a brief look at the festival's performances:
Wednesday, June 5. 7 p.m. 3600 seconds of solos Twelve Pittsburgh-based artists chosen by lottery perform stylistically varied 5-minute solo works.
Thursday, June 6. 7 p.m. Groove Indian dance fusion styles and hip hop come together in chitra.MOVES' female trio, TRIBE. Rhode Island's Island Moving Company (IMC) makes its Pittsburgh debut in a trio of works including the 2018 duet "Kindred/Two Hearts 1952-1985" and choreographer Danielle Genest's "Transport" (2018). STAYCEE PEARL dance project & Soy Sos (SPdp & SS) will present a new work-in-progress on Blackness, "Circles," and join forces with IMC in "sol FRESH," inspired by soul music of the late-1950s up through the mid-1970s.
Friday, June 7. 12 p.m. Dollar Bank Main Stage, Three Rivers Arts Festival noontime/GROOVE
The free concert features dance works by SPdp & SS, chitra.MOVES, and IMC. Friday, June 7. 7 p.m. On Point SPdp & SS reprise "sol" and "Circles" and IMC performs Jose Limon's "Mazurkas" (1958) to music by Frederic Chopin. Also includes works by Pittsburgh Ballet Theatre's Cooper Verona and former PBT dancer, Julia Erickson.
Saturday, June 8. 7 p.m. DUO + pearlGALA The shared program will feature Sidra Bell Dance New York in a 40-minute preview of PRELUDE | IDENTITY in advance of its June premiere in Brooklyn. The intimate work "deals with our growing lack of privacy," says Bell. SPdp & SS will reprise their atmospheric work sym, inspired by sci-fi writer Octavia Butler's novel Fledgling.
Sunday, June 9. 3:00 p.m. PDMR Alumni Concert PearlDiving Movement Residency alumni reunite for this program. Includes works by Maree ReMalia, Jasmine Hearn, and SPdp company member, Joy-Marie Thompson, who says her new solo "LIBERATION" is about "the alienation that Black people receive in this world." Also featured is slowdanger in the Pittsburgh premiere of "Empathy Machine."