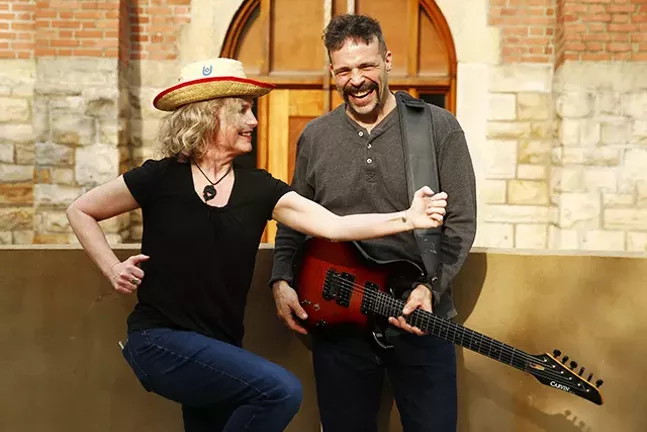 Genres collide and combine in intriguing ways on the self-titled debut from Hell's Oasis. The two-piece — married couple Ginger and Alexis Polozoff — borrow openly from funk, folk, and grunge, and more subtly from trip-hop and Celtic rock.
"Don't Blame the Rain" opens the record with Ginger's airy, haunting vocals and a slow-burning, minor-chord progression resonant of The Cranberries. The fourth track, "Lilacs," veers into pop and reggae, colored by syncopated rhythms and phased-out guitar. "Creature of the Night" is straight out of '90s alternative rock. "Fast 'n' Funky," on the other hand, delivers exactly what the title suggests.
"We think there are a lot of people like us who like music across a lot of different genres," says Ginger. "I love Johnny Cash, I love Willie Nelson, and maybe you can hear a little bit of that in some things, but most of our stuff doesn't sound anything like that. A lot of people that like that old-style country music or classic rock, or even SIA or Katy Perry — we're not that far off from those guys either."
Alexis grew up in Pittsburgh and was classically trained, playing cello and piano throughout high school. Wanting a more portable instrument, he began playing guitar and jammed with several bands in New York City, then Austin, before moving back to Pittsburgh in the early 2000s.
"Austin is a big funk and blues town," says Alexis. "I picked up a lot of funk stuff while I was there."
At seven years old, Ginger began singing in church in a small Texas town. She took voice lessons in the U.K., Dallas, and with the famed Marcy Lynne in Austin. Austin is where Ginger met Alexis in the '90s, after responding to an ad in the Austin Chronicle searching for a singer for a now-defunct band.
"[When creating music, Alexis] will sing me a little bit about what he's envisioning," says Ginger, "and I'll be like 'Oh, that's not striking me that way at all.' But I think that's the beauty of us coming at things with different backgrounds, different influences, different styles, and different skill sets."
The 412 is CP's new music section where you can get local band/musician updates and fun, random tidbits of information all in one.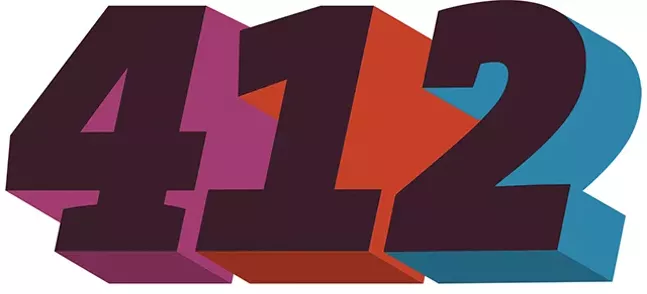 ---
Qs About Music
Favorite trip-hop song?
Alexis – "Trigger Hippie" by Morcheeba
If you could only listen to one genre for the rest of your life, what would it be?
Alexis – Indie rock, because it encompasses a lot of things.
Ginger – Classical. It's not my favorite, but I don't get tired of it.
What's the best music video you've ever seen?
Ginger – "Say Amen (Saturday Night)" by Panic! At The Disco
Alexis – "Self Control" by Laura Branigan. It's an Eyes Wide Shut sort of thing, really trippy.
What's a song you've felt emotionally attached to?
Alexis – "I Want You (She's So Heavy)" by The Beatles.

Ginger – "I Want You" is one of our favorite songs, period. I would pick, "Let It Be" also by The Beatles. I can barely say the name of the song without crying.
Q About Beverages



Do you drink coffee? And if so, how do you take it?
Alexis – I don't really drink a lot of coffee. I drink mine in the early morning, just a splash of coffee. I drink it black. Not because I like it, because it helps me wake up.
Ginger – I drink a couple of cups every day, and with cream.
2 Qs About Relaxing



What's something you do in your down time?
Ginger – What downtime? [Laughs] We work, so downtime for us is when we get to work on our music. I can have a really terrible day and going through our set, it's healing.
If you had one day to devote to a staycation, what would you do?
Alexis – I'd like to wake up in the morning, take the dog for a nice long walk, spend 3-4 hours in the studio doing music, in the afternoon maybe take a nap, and then maybe spend some time out in the sun, sun gazing and relaxing.
Ginger – That sounds amazing, so ditto!