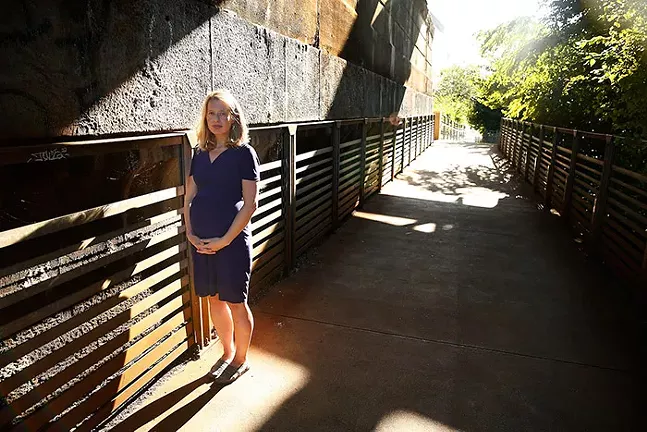 I vividly remember the first time in my 20s that I had fun sober.
I know there were times in my childhood and teens when I enjoyed life without a drink or a drug, but by the time my 20s rolled around, I was firmly convinced that real fun required heavy intoxication and I held onto that notion for years.
Then, I was 28 years old and had recently gotten sober. Sobriety was depressing, but I couldn't see any way around it. I imagined a gray-colored future for myself, full of awkwardness and self-loathing.
Friday nights were the worst. Since I certainly had no other plans, I limply accepted an offer to go to Pierogi Night, a now-defunct pop-up in Lawrenceville by the folks who later opened Apteka in Bloomfield. By the time we arrived, the line had stretched around the block, so I settled in to wait.
Then, over the course of that 30-minute queue, I bumped into a number of people that I knew, people it was nice to see. We chatted. I'm pretty sure we laughed. By the time the night ended, I had been thoroughly rocked by a revelation: "I can have fun sober." The idea brought to me tears.
Another radical thought followed: "It wasn't just me."

Pierogi Night didn't have a liquor license, so the majority of participants were pretty darn sober. And a good number of them appeared to be having fun. Maybe there was something instructive about the environment, I considered. That these pleasant people having a pleasant time showed me how to do something that I didn't know how to do, didn't believe I could.
It was a powerful experience made possible by a sober-friendly space. I treasure these spaces. They are protective, instructive, and inclusive. I believe that Pittsburgh needs more of them — and not just to accommodate people like me in recovery, but to give everyone a healthy break from our culture's grim fixation on alcohol and other drugs.


Here are a few other spots in Pittsburgh that I've found to be sober-friendly:
1)
B52:
This restaurant in Upper Lawrenceville serves thoughtful vegan fare, and they don't sell any booze. But they've got fun drinks! There's always a kombucha or two to choose from, in addition to sodas, teas, and coffee drinks. I like going to B52 because it feels like a treat, and I never feel like I'm missing out on the cocktail element of eating well.
2) Asian restaurants: There are too many to list here, but most Asian and Indian restaurants do a great job of making the food the centerpiece of the experience rather than the alcohol. Have you noticed how agreeable the atmosphere is at Tram's, Smiling Banana Leaf, People's, and a dozen other Asian restaurants in Pittsburgh? By downplaying the booze, I think these restaurants become more relaxing for everyone, including those of us who don't drink.
3) Mixtape: I hesitated to include this on the list because it is, after all, a bar; but, I think this Garfield hangout illustrates the ways even a "drinking establishment" can create an environment that feels safe for non-drinkers. Mixtape advertises its offerings as "caffeine and cocktails," which means there's a nice selection of coffee shop drinks to choose from in addition to beer, wine, and cocktails. They've also got a decent mocktail menu.
But to me, Mixtape's sober-friendly qualities go beyond the drinks. It's about the atmosphere they've consciously created. Even when full, Mixtape is rarely so loud that you have to yell to be heard. There's a nice selection of board games to play. It's chill.
Not everyone will agree that these spots constitute "sober-friendly spaces," and that's OK. People will also find this list hopelessly incomplete — "What about Roboto?" they'll ask. "Are you kidding me? She forgot Dobra!" — and that's to be expected. The point is that these sober-friendly spaces have made a real difference in my life, as well as the lives of untold numbers of other Pittsburghers who are working to reduce or abstain from substance use.
Do we have enough of them? As we celebrate National Recovery Month this September, these are the questions we should be asking. What can we do to create them? How does the city as a whole benefit from them?


---
Jessica Williams, the Director of Communications for IRETA, the Institute for Research, Education, and Training in Addictions, was one of our Pittsburgh Faces of Addiction Recovery, part of our ongoing coverage in September for Recovery Month.