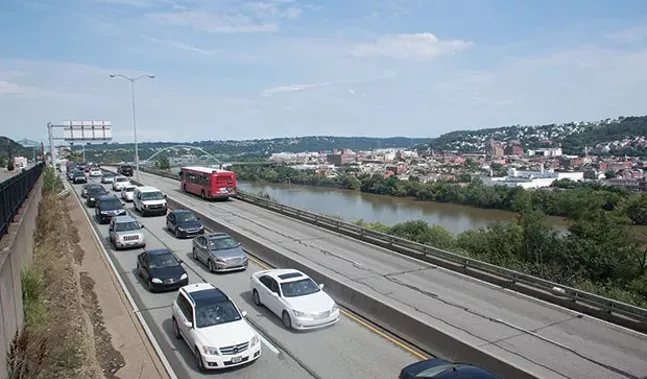 Pittsburghers, like most Americans, hate traffic. And also like most Americans, drivers here seem convinced that their traffic is worse compared to other cities. So when a report comes out that validates those feelings, Pittsburghers eat it right up.
That happened earlier this month when local TV stations and others published a story about an Inrix study that ranked Pittsburgh as the
seventh most congested
urban area in the nation. Social media went ablaze after the story broke.
But Pittsburghers might want to be more skeptical of that report. Its analysis has been criticized by transit experts for being skewed against densely populated cities. And another recently released study on traffic congestion came to almost opposite conclusions. It all may mean that Pittsburgh has less traffic than Pittsburghers want to believe.
According to transit news site
Streetsblog
, Inrix used cell phone, vehicle tracking, and GPS data to estimate the speed at which traffic moves in dense urban areas. Inrix's latest report measured intercity last-mile travel time (the time it takes to move one mile) and intercity last-mile speed (the speed a driver travels into Downtown during rush hour).
Pittsburgh's intercity last-mile travel time was five minutes, and intercity last-mile travel speed was 13 mph. The only rankings slower than Pittsburgh's were Seattle, Los Angeles, New York, Chicago, Washington, and Boston.
But as the
Boston Globe
notes, "some transportation specialists have argued Inrix's approach disadvantages densely built cities such as Boston, where some motorists may spend their entire commute in congestion but aren't traveling very far."
Streetsblog has also taken issue with the Inrix study, saying the "methodology ignores differences between average travel distances in cities, which effectively penalizes denser, more compact cities."
Pittsburgh isn't as dense has Boston, but it does share many similarities to the Massachusetts capital, including its relatively small size (in terms of area) and high percentage of commuters that walk to work.
Pittsburgh has about 11 percent pedestrian commuters
and Boston has 15 percent. This suggests these cities aren't sprawled out in a way that makes long drives to work necessary, as they are in Houston or Atlanta.
According to the
Brookings Institute
, Pittsburgh's average
distance to commute
is 8.1 miles. Cities like Atlanta, Dallas, Houston, and St. Louis easily eclipse that mark, as do several cities that weren't included in the Inrix study. Pittsburgh is also denser than Atlanta, Houston, and Dallas.
Some also questioned why travel speed was weighed into the study at all. Bike Pittsburgh director Scott Bricker noted on Twitter that commuters care about overall travel time, not how fast they are going.
Who cares what the difference is between speed limit and actual speed? The only thing people care about is total time spent commuting. I'd for one much rather go slowly for only 15-20 minutes total than fast for 45 minutes. https://t.co/R5XfrMJVU9

— Scott Bricker (@sbrix) February 12, 2019
Also, the Inrix study is contradicted by a 2018 report from the
American Transportation Research Institute
. Inrix cites one of the main reasons Pittsburgh landed on its list was because of congestion on I-376 from the turnpike to I-79, aka the Parkway East and West. Inrix says daily delays on the parkway average 13 minutes, the fifth most congested road in the U.S.
But the ATRI report also studied I-376, and it didn't even include it in its 100-list ranking of roads with the worst bottlenecks in the U.S. The ATRI report analyzed GPS tracking of freight trucks to determine congestion at highway bottlenecks, where congestion is usually worse but only during rush hour. ATRI measured the average speed traveled at the bottleneck and compared to the speed traveled during rush hour.
According to Rebecca Brewster of ATRI, I-376 had the 113th worst bottleneck congestion in the U.S. Atlanta had three bottlenecks in the top 10 of the ATRI report, while Los Angeles had two and Houston had one. Brewster said the last time one of ATRI's Pittsburgh-monitored locations made the top 100 was in 2017, when the intersection of I-70 and I-79 East was ranked 96th. In 2018, that same intersection was ranked 111th.
Something to think about when complaining about Pittsburgh traffic.