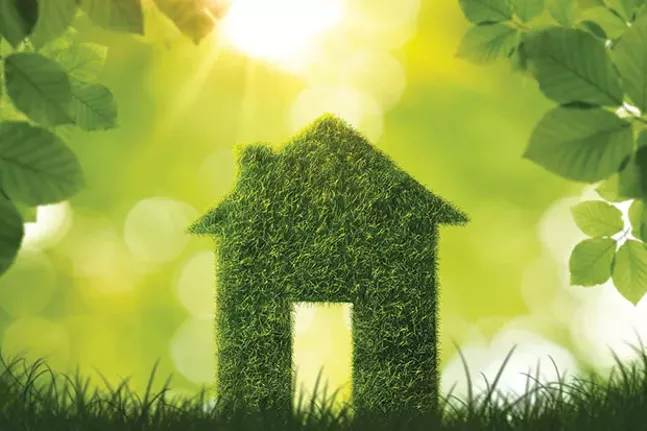 Early this year, Lucyna de Barbaro and Ayres Freitas completed the first newly constructed passive-house duplex within city limits. A passive house is so tightly sealed and well insulated that its heating and cooling system has the same electrical-power needs as a hairdryer. They moved into half of the Squirrel Hill duplex and listed the other half for sale. Problem: The West Penn Multi-List, the region's real-estate listing service, didn't provide a searchable online way to tell potential buyers why the house was special.
"There is a segment of the buyers who would be interested in this," says de Barbaro. However, she says, "West Penn MLS is keeping people in the dark."
As MLSs around the nation increasingly include space for so-called "green fields" in their databases, critics are concerned that Western Pennsylvania is falling behind. For two years, an informal group called the ReEnergize Pittsburgh Coalition has worked to persuade West Penn MLS to make room for information about things like solar panels, high-performance windows and energy-efficient furnaces, saying it would benefit buyers, sellers and real-estate agents. Jeaneen Zappa, who heads Coalition member Conservation Consultants Inc., says the move could even benefit the environment by incentivizing conservation-minded home improvements.
The Real Estate Standards Organization (RESO), which provides technical support for the industry, has created standardized ways to list green info; CEO Jeremy Crawford says half of the nation's 700 MLSs utilize green fields, a cohort that encompasses "90 percent of the market." One available green field indicates whether a home has earned third-party certification for efficiency standards like the U.S. Department of Energy's Energy Star rating; the DOE cites research indicating that certified homes (and even homes that simply utilize green fields in listings) sell faster, and for more money. Amanda Stinton, sustainability director for the Chicago-based National Association of Realtors, says studies have found that, when properly marketed, existing certified homes sell for 5 percent more, and certified new homes get premiums of 9 percent to 14 percent.
The demand for green listings is driven by homebuyers — millennials, says Stinton, and baby boomers concerned about quality of life and the environment. "Our clients are increasingly environmentally conscious," says Rick Schweikert, a Pittsburgh-based real-estate agent with Keller Williams. "That's where the economy, the consumer and the product are all moving," confirms John Petrack, a spokesman for the Realtors Association of Metropolitan Pittsburgh (RAMP). Having green listings is "somewhat beneficial to a Realtor," says RAMP president Charlene Haislip. "It's most beneficial to the homeowner. … It's going to make finding the right home easier for a buyer." Haislip adds that green fields would also allow appraisers to estimate home values more accurately, and concludes, "I don't see a downside at all."
So why no green listings here? Most MLSs are run by local associations of real-estate agents, who can implement such changes themselves; by contrast, the West Penn MLS is owned by a handful of large brokers, including Howard Hanna and Northwood Realty. And all ReEnergize Pittsburgh's appeals to the MLS have been politely rebuffed, says CCI's Zappa. "We can't get them even to have a conversation with us," she says. Even Haislip, of RAMP — the organization representing the professionals West Penn serves — professes uncertainty about why the MLS (home-page motto: "Innovative & Economical") is balking. "Probably it has to do with money," Haislip says.
Reached by phone, West Penn MLS chief operating officer Barbara Kohl says the answer is technological. Adding green fields "would require extensive changes to our database," she says. West Penn, she adds, just completed a major software overhaul and is not ready for another. "I'm not saying we're not going to do it," she says. "We're just not going to do it right at this moment."
It's too late for de Barbaro and Freitas, though. They did sell their passive-house duplex, but de Barbaro says the buyer was more interested in the building's look than its sustainability. "We need to start valuing these things more," she says.