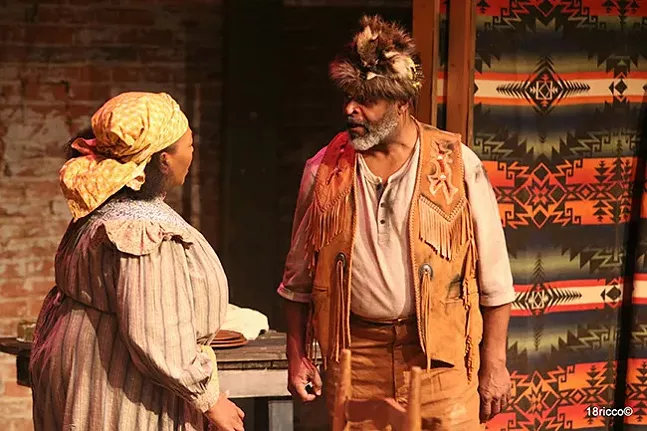 "How does that work? Do you ask for God's help first, then give them medicine? Or do you give them medicine and then pray that it works?"
That question is posed to Rory Dobbs (Jonathan Berry), a reverend and doctor in Mark Clayton Southers' Savior Samuel. The lines get a hearty laugh from the audience, but it's a heavy theme that's echoed throughout the two-hour play: Who, or what, is healing whom?
The play, directed by Monteze Freeland, opens in 1877 in the home of former slaves Benjamin and Virginia Clayson (Wali Jamal and Cheryl El-Walker) and their deaf teenage daughter Essie (Aaliyah Sanders).
Benjamin is an alcoholic, drunk off the moonshine he sells to keep the whites and Native Americans from bothering his family. His arm hangs limp beside his body, thanks to a wolf attack he doesn't speak much about — it's far from the only scar he carries with him. Virginia's sadness feels as heavy as her husband's limp arm.
This family has been through a lot, and there's more to come. They discover Essie is pregnant, and because she's unable to speak — the family's sign language is rudimentary at best, no one knows who the father is. Was it a white man? A Native American? Or was it something much worse?
(It's worth noting here that Sanders herself is deaf, and a 10th grader at the Western Pennsylvania School for the Deaf. Her entrance and exit clues are one of the highlights of the play. A stomp! A fist slammed on the table!)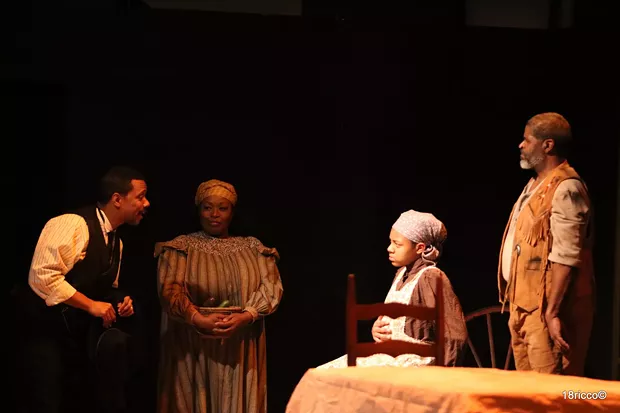 Southers originally wrote the script for Savior Samuel in 2002, but when he staged a reading at the time, one guest was so offended by its hints at incest, it caused Southers to shelve it until a few years ago when a friend convinced him to take a second look. Be glad he did. The incestual allegations elicit gasps from the audience and bring incredible acting by Jamal. But it's truly the Black actresses who make the play worth watching. They carry the weight of their husbands, their fathers, the babies taken from their arms. Their wails startle the audience. Even Essie, normally silent, has her moment.
On Sundays, audiences get the chance to stay after the performance for a live chat with the writer and actors. This past weekend, Southers compared the ending of his play to the Sixth Sense, with a surprise ending. (No, none of the characters were dead the entire time.)
Rest assured, no one will leave the play questioning the lesson Southers intended. The ending is explosive, but the script throughout is solid, leaving plenty of hints along the way, that I wonder if such a grand finale was even needed.