For the second time this month, a white nationalism group has
vandalized public property
in Pittsburgh. At least six Patriot Front stickers were plastered near
Belvederes Ultra-Dive
on Butler Street in Lawrenceville. At least one was stuck to a Pittsburgh Parking Authority meter outside of the bar.
Patriot Front has been deemed a
hate group
by the Southern Poverty Law Center. According to the Patriot Front manifesto, "An African, for example, may have lived, worked, and even been classed as a citizen in America for centuries, yet he is not American." Patriot Front formed as a splinter group after the Unite the Right rally in
Charlottesville, Va
.
An employee at Belvederes spoke to
Pittsburgh City Paper
on the condition of anonymity to avoid targeting from white nationalist groups. The employee said the stickers were placed outside the bar sometime late last week, and were removed upon discovery. On the night of the event, the worker walked up and down Butler Street to search for more stickers, but only found them in close proximity to Belvederes.
The employee says it's possible Belvederes was targeted by the alt-right Patriot Front, since the bar is well known for having an all inclusive policy, and a "very strict no harassment and non-discrimination policy."
"I took them down because the Patriot Front are Nazis basically, and fuck Nazis," says the employee. "As somebody who works there, it makes me uncomfortable. What could they do to us if they are targeting us?"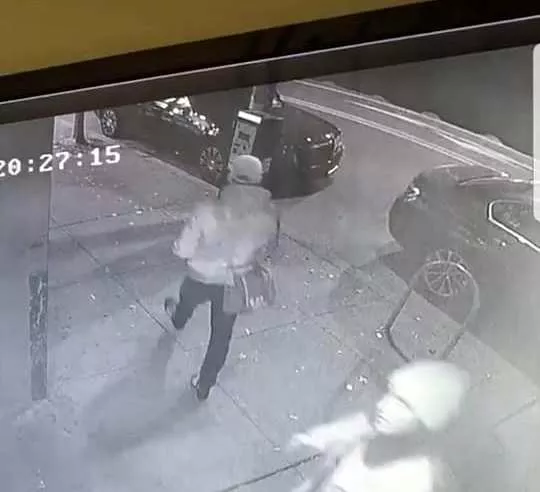 The employee says security video from Belvederes show two vandals placing a sticker on the public parking meter at 8:27 p.m., but the angle doesn't reveal many details of the faces.
CP
shared a screenshot of the video and a photo of a Patriot Front sticker on the parking meter to the Pittsburgh Police, but police officials did not return comment regarding whether they are investigating the matter.
Earlier this month, around Election Day, South Hills residents also believed that Patriot Front was targeting their neighborhoods when placing fliers throughout Brookline, Mount Lebanon and Beechview. Those fliers had anti-immigrant messaging and there are large concentrations of Latino and Asian immigrants in the South Hills.