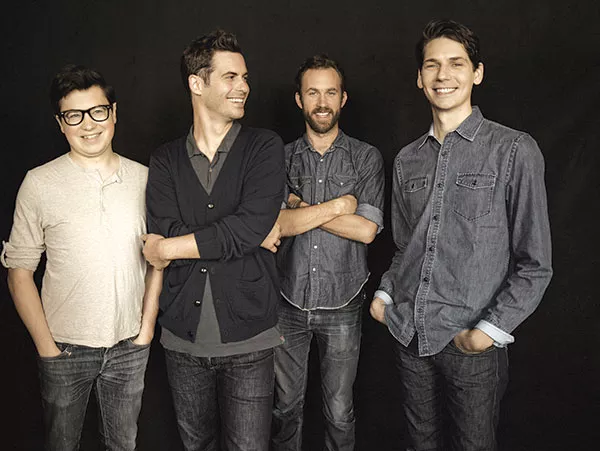 In May, 2011, Jeff Tweedy and Wilco headlined the final day of Sasquatch! Festival, in central Washington. Before laying into an encore that would officially close out the festival, Tweedy had one final thought to share with the audience.
"I really enjoyed the White Denim set today. No offense to anybody else — everybody else sounded fantastic — but White Denim really kicked ass."
Earlier that day, Tweedy had waited offstage for the Austin-based rock band. "He was just really complimentary of the set," recalls James Petralli, White Denim's lead singer, over the phone from his home in Texas.
"That led our agent to talk to [Wilco's] agent — it was one of those things — and it ended up leading to a tour. We got to do 22 shows with them on the West Coast. Main support every night."
And so began the Tweedification of White Denim.
Back at Sasquatch, Petralli and company were just one week removed from the release of their fourth proper studio album, D.  Each of the band's previous releases had been touted by the media, but D was being hailed with the headiest praise yet, with critics throwing around words like "masterpiece."
That album was the latest in a long line of genre-defying releases for White Denim. Early on, when it was just Petralli, bassist Steve Terebecki and drummer Josh Block, the band could best be described as experimental garage rock. Many of the songs on the first album, 2008's Workout Holiday, are under three minutes — "We were a lot punkier," explains Petralli — and display the exuberance of a band brimming over with ideas.
"I think with the first few records it was a different band," says Petralli. "We didn't really talk about lyrical direction; we just kind of threw everything at it."
In 2010, fleet-fingered guitarist Austin Jenkins made the trio a quartet, and White Denim shape-shifted toward a Southern-fried psychedelic-rock sound that also counted jazz, progressive rock and blues as influences.
To read through the band's press clippings — especially from the U.K., where it's got an outsized following — is to witness music critics struggling vainly for that one perfect analogy to encapsulate the band's sound: "Minutemen math-punk," "space-rock Canned Heat," "ZZ Top playing punk-funk," and "Krautrock Soft Machine" are just a sampling of the descriptors used over the years.
Despite continual praise from the music press, Petralli acknowledges the limits of White Denim's popularity: "There's more critical acclaim than tons and tons of actual fans," he says. "But," he's quick to add, "it's grown at a comfortable pace. This record has kind of turned around the touring business in the States, for sure."
The record in question, Corsicana Lemonade, was released by White Denim last October. But the seeds for the album were sowed eight months after Sasquatch, during late nights on tour with Wilco.
"We just kind of started fishing around then," Petralli says with a laugh. "Like, 'Hey, we've seen the documentary, the studio looks really cool.' So, just kind of pushing it into the realm that we were interested in kind of intruding, and seeing what they have going there."
Jeff Tweedy's Chicago studio, known simply as "The Loft," or "The Wilco Loft," has seen tracks and albums laid down by the likes of Mavis Staples, Low, Andrew Bird and, of course, Wilco itself, a process famously captured in the 2002 documentary I Am Trying to Break Your Heart.
Asked about his experience recording in Chicago, Petralli starts to trail off, suddenly distracted. "Sorry," he says, "I've got an 18-month-old daughter who's just a ball of energy. She's jamming around right now."
It's that newfound family life, and growing up in general, that are the reasons Corsicana Lemonade provides White Denim with its most intimate album to date: a "song-focused, personal record," according to Petralli. It's also the first that you can almost pin a genre to: part Southern roots-rock, part boogying blues. (Again, almost.)
Another Tweedification: The band tracked all the songs for the album live, together in the studio. "It was something we always wanted to do," says Petralli, "but when we got to Chicago, Tweedy was really adamant. He was just like, 'You gotta play the tunes, hear the quartet arrangement.' I guess you could say Tweedy forced it on us a little bit, but it's just what you do when you're in a studio making a rock 'n' roll album: If you can, you should play most of it live."
In the end, only two of the tracks from their four days at The Loft made it onto the final release; longtime Austin producer Jim Vollentine, along with the band, produced the remaining songs. But there's no doubt that Tweedy, who also mixed the album's B-side, set the tone for the remainder of the recording sessions.
Despite fans and critics alike welcoming this grown-up change in direction, Petralli says the band is far from ready to settle down.
"I don't want to do adult-contemporary records," says Petralli. "I still really wanna rock. I think that rock music should be kind of wild. I kind of want to make a crazier record. Like, something that's really aggressive, and textured, and challenging. I'd love to make something like [Funkadelic's] Maggot Brain. I think that's where it's at."
And they say you should never meet your idols.