Finally! A feel-good movie about our misadventures in Afghanistan. Glenn Ficarra and John Requa's comedy adapts American journalist Kim Barker's memoir The Taliban Shuffle, which recounts the time she spent in Afghanistan between 2003 and 2006. Barker is re-named Baker for the film, and portrayed with typical semi-detached brio by Tina Fey. Viewers get a Tina Fey movie, full of sassy put-downs and wry asides, but also: a fish-out-of-water tale; a neutered press-meets-war comedy; a rom-com; a scattering of military episodes (losses include: one colleague, one soldier's legs, and America's interest in the conflict); and a woman's journey of self-discovery.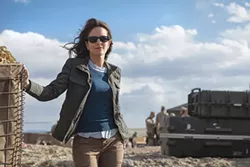 WTF remains entertaining, but it's simply too scattered to pull together effectively. Billy Bob Thornton does some nice scene-stealing as a profane U.S. general, and Margot Robbie and Martin Freeman are good as Baker's lively international colleagues. The only two Afghan characters are played by white actors, Alfred Molina and Christopher Abbott; that's just not funny, and it's painful watching Molina turn in such a cartoonish portrayal of a well-placed politician, all fright wig, silly accent and leering looks.
The work dabbles in the gallows humor you'd expect from living and working in a war zone, but whether by the nature of the conflict or the set-up of this film, the hard realities of the war and life in Afghanistan are distant. It's a "place" that gets visited before everybody returns to the Kabubble for more beers. The filmmakers pull their punches politically, but you know what might have made a good grim joke at the film's end? Noting that this WTF of a military action is still ongoing some 10 years after this story that nods to its futility wraps up.