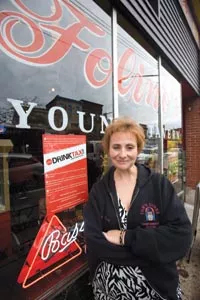 Since opening Folino's Ristorante & Catering on the South Side in 2005, co-owner Penny Folino claims that she's never once raised her liquor prices.
But thanks to the government wanting a shot of her liquor proceeds, there's a chance that might change.
Allegheny County Chief Executive Dan Onorato's fiscal 2008 budget, which requires a 10-percent "pour tax" on alcoholic drinks and a $2 per day car-rental tax, leaves Folino and every other county restaurateur with two options: fight the tax or mark up the booze.
"For someone to force me into raising my liquor prices, that doesn't make me feel good," Folino says. "It's a prejudicial tax. It's unjustified."
But while bar and restaurant owners fight the tax, Port Authority transit advocates are waging their own battle against the restaurant industry, since the drink tax would help raise much-needed funds for the struggling transit agency.
"We are asking all transit riders to boycott all restaurants and bars that are opposing this tax," says Amanda Zeiders, chairperson of Save Our Transit, an organization advocating for improved public transit. "We definitely don't think [the drink tax] is the best option, but it's the only option we have at the moment."
Crystal Williams, 28, of Penn Hills, depends on the Port Authority to get to and from her job Downtown every day, and she says bar and restaurant owners' opposition to the tax is "very upsetting."
"Transit prices are going up," she says, waiting for a bus at the corner of Smithfield Street and Fifth Avenue. "This tax could help lower fares."
Onorato says the two new taxes, slated for a December vote by county council, will provide steady funding for the financially strapped Port Authority without requiring a raise in property taxes. According to Onorato's spokesperson, Kevin Evanto, the county currently uses 10 percent of the $250 million generated in property taxes each year to write a $25 million check for the transit agency.
"These two new taxes are preferable to raising property taxes," Evanto says.
Act 44, the Transportation Act of 2007, is the key to substituting the drink and car rental taxes for an increase in property taxes. In order to get about $180 million in state funding for the Port Authority, the act requires that the county generate $28-30 million, which is about $2 million more than it currently generates from the property tax.
"We understand [restaurant owners'] concern," Evanto says. "But if you look around the country, it hasn't had the negative effect that restaurant owners here fear."
There have been mixed reviews about the impact that Philadelphia's drink tax--in place since 1994. According to the Greater Philadelphia Tourism Marketing Corporation, Philadelphia is now "The place to b.y.o.be," since many restaurateurs are forgoing the high liquor taxes and opening Bring-Your-Own-Bottle restaurants. There are now more than 200 BYOBs in the city, according to the city's marketing Web site.
Convincing Allegheny County's bar and restaurant owners that their businesses won't suffer from the tax isn't easy.
If passed, Folino says her business, and others across the county, will suffer significant revenue losses, as customers will cross county borders to save money on alcohol or simply skimp on drink purchases altogether.
"[Onorato] is showing prejudice against tavern owners," Folino says. "The county is trying to put me out of business."
Such comments are echoing throughout the county, as bar and restaurant owners organize in protest to the drink tax. Signs opposing the tax are posted on the front of bar and restaurant windows, decrying the so-called "Taxation on Relaxation" and asking patrons to contact county council members to voice their displeasure.
Tom Baron, president of the Big Burrito Restaurant Group and chairman of the Friends Against Counter-Productive Taxation, says he is asking his employees to circulate petitions against the tax.
"Hitting the restaurant industry is wrong," Baron says. "There are going to be jobs lost because of this."
Many county restaurateurs say they are already taxed enough, especially since Pennsylvania's liquor tax already adds up to the highest in the nation.
"It's a blow on many fronts," says Kevin Joyce, proprietor of The Carlton, in Downtown, and chairman of the Pennsylvania Restaurant Association. "There will be dramatic losses to our businesses."
But transit advocates say the tax would mean essential gains for a transit agency that, without funding, could fall into a $40-80 million deficit. In retaliation to restaurant petitions against the "Taxation on Relaxation," SOT has begun its own campaign targeting restaurants staunchly opposed to the tax.
"What they are fighting for is AGAINST the interests of bus riders," reads one flier distributed by SOT. "Bus riders won't be able to survive without a stable public transit system."
Evanto says that all of the revenue from the drink and car-rental taxes will be used as dedicated funding for the Port Authority. That, he says, will enable the $25 million in property taxes, which was formerly used for the transit agency, to be shifted to help fill the county's budget deficit.
But some city and county politicians don't think the county executive has made it clear enough that the new taxes are being used for purposes other than saving the Port Authority.
"County council has the responsibility to show the public where their money is being shifted," says city councilor -- and vocal transit advocate -- Bill Peduto.
"The guise of this whole tax is the shortfall in the budget," agrees County Councilor Matt Drozd (R-Ross).
Bar and restaurant owners say they are sympathetic to the need for steady Port Authority funding, but their objection to the new taxes are rooted in the county's ongoing financial crisis, and what they say are efforts to paint the tax debate as a clash between the restaurant industry and transit riders.
"This is not about public transportation. This is about the county deficit," Joyce says. "It's a travesty that the government is pitting Port Authority riders against small business."
Evanto denies Joyce's claim. "It's unfortunate for people to think it's a fight between transit riders and restaurant owners," he says.
Both Peduto and Joyce think Port Authority and the county's budget problems should be fixed through alternative means. Peduto would like to see the Port Authority focus on route changes, instead of always resorting to cutting routes and raising taxes.
"Route changes have always been talked about, but never acted upon," he says. Peduto says the time is now to conduct a comprehensive examination of the efficiency of all county transit routes.
Joyce, on the other hand, would rather see a "broad-based tax that affects all industries." He also suggests that the county start taxing nonprofits.
According to Evanto, the county executive did propose alternatives to the drink and car-rental taxes, including a tax on nonprofits and an income tax. But the state left the county with just three options: property tax, drink tax and car-rental tax.
"It wasn't so much that we wanted [the drink and car-rental taxes]," Evanto says. "That's all Harrisburg gave us. It wasn't our intention to target the restaurant industry."
Some say Port Authority and county fiscal irresponsibility are to blame for the new taxes.
"Our government has let the Port Authority get completely out of control," says Dr. Jake Haulk, president of the Allegheny Institute for Public Policy. "Wasteful spending is the problem."
Onorato himself doesn't deny that Port Authority spending is out of control. In fact, Onorato has promised to withhold the tax revenues from the Port Authority if the transit union fails to make cuts and get its operating costs under control.
According to Evanto, the county executive announced a number of changes to reduce management costs at the Port Authority earlier this year, including: eliminating 56 non-union positions and freezing all senior management salaries.
But Evanto says Onorato still wants to further "restructure labor and management costs."
Transit service has already been cut by 15 percent, and fares are scheduled to be raised starting in January 2008.
Drozd says he's "tired of bailing out the Port Authority."
"I'm afraid that these new taxes will pass and the Port Authority will go on with business as usual," he says. "We have to force the Port Authority to put its house in order."
Drozd isn't alone. Even transit riders who could be helped by the drink tax sympathize with the restaurant owners' fight against it, saying that the Port Authority should fix itself before getting outside financial aid.
"I hope the restaurant owners are fighting," says Shirley Edmunds, 69, of Penn Hills, while waiting for a bus Downtown. "[The tax] is unnecessary."
Edmunds says transit service has been horrible since the last round of route reductions. So horrible that she's considering quitting her part-time job at Macy's, Downtown, because she can rarely catch a late bus back home at night.
"The Port Authority is a big joke, and the people suffer," she says.
"The problem is the Port Authority," agrees transit rider Jon Snow, 37, of Scott Township. "They need to revamp the way it's run."