Noah Baumbach's While We're Young opens with the longest and most pretentious epigram I've ever seen in a movie: dialogue from Ibsen's The Master Builder between a character who disdains the young, and a friend who tells him, "Let them in."
Cut to a couple holding a baby (not theirs) and another conversation that establishes Baumbach's milieu. These are educated Gen Xers, full of themselves and their important lives, and suspicious of millennials, who seem to be — well, full of themselves and their important lives.
At times, Baumbach (The Squid and the Whale, Frances Ha) plays like a young Woody Allen. In fact, he's more of a male Nicole Holofcener. But where her work (Friends With Money, Please Give) maintains its fidelity to tone and point of view, Baumbach films whatever seems to please him. While We're Young is probably the kind of movie I'd like even more the second time, when I could just enjoy it on its own peripatetic terms.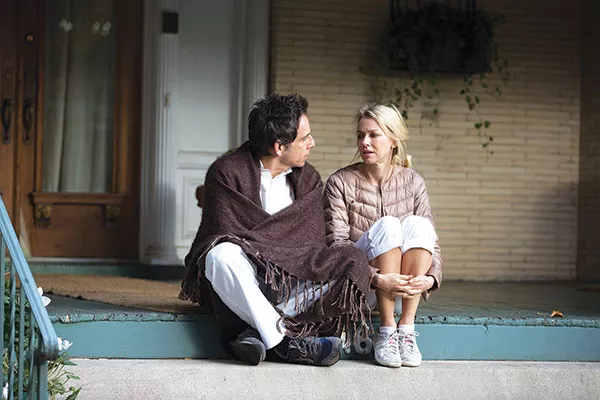 The story revolves around Josh (Ben Stiller), a fortysomething documentary filmmaker married to Cornelia (Naomi Watts), who produces the documentaries of her renowned father, Leslie (Charles Grodin). Fueled by an insurmountable integrity, Josh has worked for 10 years on one film, a tangle of big ideas about history and politics. Then he meets the twentysomething Jamie (Adam Driver), and he and Cornelia become revivified by a friendship with Jamie and his wife, Darby (Amanda Seyfried), who creates ice cream.
This would be enough of a setup for Baumbach's funny and incisive dissection of a media-saturated cultural moment in a very particular time and place. But it turns out that Jamie is also a documentarian with some talent — and an ambition to make films, by almost any means necessary, that someone might actually want to see.
Baumbach's work is so enjoyable in part because his dialogue is unique to each of his characters, who are at once complex and overly complicated. In While We're Young, he flays them all (and thus himself), and some of them he dismembers. He doesn't seem to like any of them very much, and that's OK — until he begins to, which leads to some closing-act infidelities.
Stiller is miscast here, surprisingly better at the story's drama than its comedy. Grodin is at once alert and enervated. And Driver is indispensable: Watch him at work to see a real-life example of a young artist elbowing out an older one. He's the most perceptive goofball of his cinema generation.