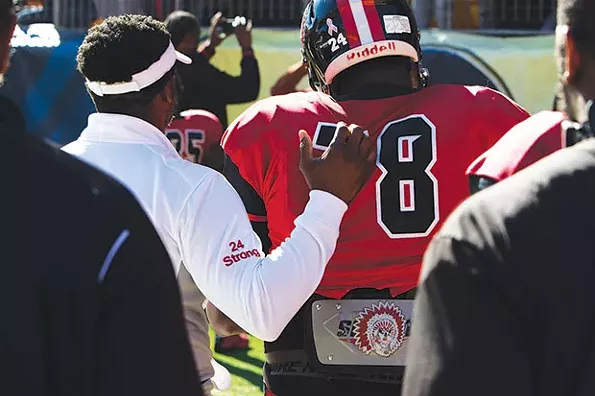 Editor's Note: DiMantae Bronaugh, who was the subject of this story, passed away Nov. 29 due to complications from his illness.

On Nov. 18, Aliquippa battled Beaver Falls for the Division 3A WPIAL football championship. There would be four games that day, but this one wasn't just about football.
Aliquippa was hunting its second consecutive title and 17th overall, with Beaver Falls standing in its way. Only 13 miles separate these two Beaver County schools with a rivalry that had been one-sided as of late, with Aliquippa winning the previous eight games leading up to the Class 3A championship bout, including a 44-13 victory earlier in the season, the Tigers' only loss.
But the star of this game never played a down. Returning to the Aliquippa sidelines for the championship was DiMantae Bronaugh, a senior who two seasons ago rushed for more than 1,200 yards to help lead the Quips to the WPIAL Class 2A title. In remission from acute lymphoblastic leukemia, Bronaugh was preparing to do the same this year when he received news back in August that the cancer had returned. He was fighting through treatment and was in need of a bone-marrow transplant; his teammates had no idea that he would make an appearance, but when he was wheeled onto the field, they all smiled, ready to play for their comrade.
With unwavering belief, passionate fans cheered on their Quips, even as the team dug itself into a two-touchdown hole to end the first half. One of those fans, Vincent Montini, has lived in Aliquippa for years and was adamant that a bounce-back was brewing: "I think they'll come back and win in the second half."
Aliquippa made it a one-possession game before falling behind again, 28-6. But the team never folded, scoring 16 unanswered points and battling to the very end. Beaver Falls exorcised its demons, winning 35-22.
Despite the loss, Aliquippa showed its toughness and its love for a sick teammate. At halftime, Bronaugh addressed his teammates, yelling at some, urging guys to go harder. To not give up. And they didn't.
The team's performance embodied the spirit of Bronaugh as he fights leukemia. Many of the coaches wore his number 24 in solidarity with the talented running back and in support of his battle; players had his number on their helmets. Fans in the stands could be seen in "#24 Strong" shirts, spreading awareness of the need to find a bone-marrow match to help stop cancer a second time. That's a win that is far more important than a football championship.
For more information on where you can donate bone marrow, visit www.DKMS.org or call the Central Blood Bank at 412-209-7000.