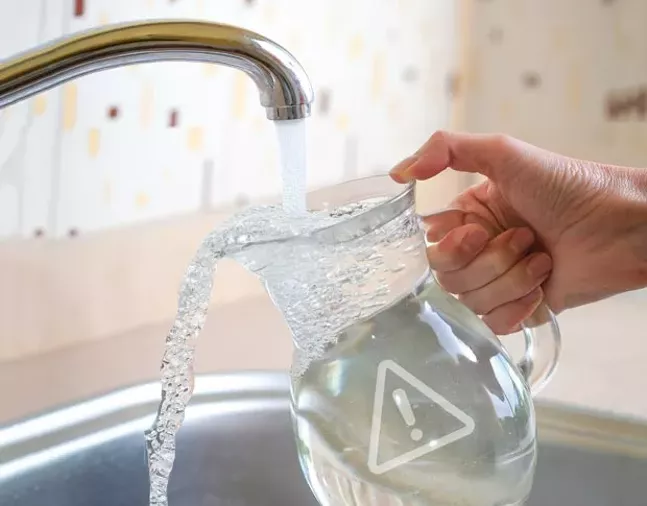 On Oct. 12 of last year, the Pittsburgh Water and Sewer Authority filed a lawsuit against Veolia Water North America, a private water-utility management company that had been contracted to improve PWSA's operations.
"PWSA placed its trust and confidence in Veolia to properly manage and improve the Authority," PWSA Chairman Alex Thomson said in a statement. "Despite receiving significant sums from PWSA, Veolia failed to perform as required. This failure has resulted in significant damages to PWSA and left the Authority in a worse position than when Veolia was engaged. The Board is committed to PWSA aggressively pursuing its claims against Veolia."
One of PWSA's claims is that Veolia was responsible for a switch in the corrosion-control chemicals used to minimize the amount of lead that leaches into the water supply. Many believe that this switch has contributed to the high lead levels in Pittsburgh's drinking water.
But in an email sent on Oct. 16, 2015, almost exactly one year before PWSA filed its lawsuit, and recently obtained by City Paper through a right-to-know request, PWSA maintenance superintendent Glenn Lijewski appears to take credit for the chemical switch.
"I also wanted to bring up the fact that, we here at the treatment plant accomplished tremendous savings, via in-house treatment changes," Lijewski wrote. "We are now using caustic soda for final pH adjustment versus soda ash."
The email continues, "Traditionally soda ash was the preferred method because of cost. Caustic soda was always more expensive. But we noticed that while soda ash prices were rising the cost of Caustic [sic] was dropping. So, we internally started to use Caustic in place of Soda Ash [sic] whenever possible, and to obtain a base line in usage versus cost. We found that we can significantly save money using Caustic … The bottom line, does not lie."
This email is just the latest shoe to drop in the ongoing circus that has become the city's water system. While it would seem to place the blame for the switch on PWSA's shoulders, many aren't quick to let Veolia off the hook. Local activists want to see the state attorney general file suit against the corporation, and the city isn't backing down from its suit either.
"Veolia was in control of the management and operations of PWSA under a contract formed under the prior administration," says Kevin Acklin, Pittsburgh Mayor Peduto's chief of staff. "We believe that Veolia made and approved all critical decisions for the authority, including with respect to anti-corrosive chemicals, and further took actions to enrich themselves to the detriment of the residents of Pittsburgh. PWSA terminated [Veolia's] contract and filed a lawsuit to recover … the damages they caused to the city's water system. We intend to hold them accountable in pending litigation."
But some believe the battle between the city and Veolia is simply a distraction from the very real threat that lead presents to city residents. These critics say it's time for the city to get to work to actually address the problem.
"It seems to me that there's so much we don't know, but from everything I've reviewed, it seems there's culpability to be shared," says Allegheny County Controller Chelsa Wagner. "All areas throughout the country that have lead lines, if they don't have this problem already, they will. The corrosion-control change at a minimum accelerated that problem. But this is a fixable problem."
The events leading to PWSA's lawsuit against Veolia were set in motion in April 2016, when PWSA was cited by the Pennsylvania Department of Environmental Protection for not notifying DEP of the corrosion-control chemical switch. At the time, PWSA and the city quickly released statements saying Veolia was responsible.

"This order is being issued related to a procedural violation that was made by PWSA's former management firm, Veolia Inc.," Pittsburgh Mayor Bill Peduto said in a statement at the time in response to DEP's action. "It has been reported to us that Veolia Inc. did not inform DEP of a change in corrosion control methods in 2014. In addition, the board of PWSA was not notified of the change, neither was the City of Pittsburgh."
Veolia maintained then, and continues to maintain, that it was not responsible. And this year, the company filed a countersuit against the city for defamation.
"The 2014 change from soda ash to caustic soda was not initiated by (or at the direction of) Veolia's team nor was it part of Veolia's and PWSA's contract metrics. Veolia did not and would not prioritize cost savings ahead of effective corrosion-control methods or water quality. Veolia in no way received any financial payment related to PWSA's decision to change corrosion control," Veolia said in a statement.
The current situation is a clear example of why private corporations shouldn't be involved in public utilities, says Gabriel McMorland, a co-founder of Pittsburgh's Our Water campaign. He says that's the lesson the city should take away from this.
"If I had been on PWSA's board at the time that the board was considering bringing in Veolia, I would've voted against it," McMorland says. "The way to hold the city accountable for what has happened here is to make sure we don't privatize any part of PWSA in the future."
But McMorland still believes Veolia should be held responsible for any issues that arose during its three-and-a-half-year contract with the city.
"It's still true that while they were managing this authority, a potentially dangerous chemical switch was made. Either they horribly mismanaged the authority while they were being paid to do so, or they didn't know about the switch and simply let it happen."
For that reason, the Our Water campaign is calling on the state attorney general to file a lawsuit against Veolia. While Our Water supports the city's lawsuit, it doesn't believe it goes far enough.
"It's kind of like if you went to a restaurant and you got food poisoning, and they offered to give you back $12 for your dinner instead of paying your hospital bills," says McMorland. "We would like to see Attorney General Josh Shapiro bring a lawsuit against Veolia for the real damage they caused real people in Pittsburgh."
In an audit released by City Controller Michael Lamb in June, he too was critical of Veolia. But he also placed blame on the authority for its handling of the lead crisis.
"I don't think anyone has any confidence in PWSA and I don't think the current administration has done enough to correct the problem," Lamb says. "It seems like every time a problem like this comes along the response is, 'Well, let's appoint another task force to look at the problem.'"
Scientists stress that no level of lead is safe, and in the most recent round of testing done by PWSA, water pouring out of some faucets in Pittsburgh homes tested above the federal threshold for lead of 15 parts per billion. That's why Lamb says he wants actual action by the city to address the problem.
"We need to commit to a long-term plan of infrastructure investment and improvement at the PWSA," Lamb says. "We just keep stalling and kicking the can down the road. What we really need is actual work to get done."
For Allegheny County Controller Chelsa Wagner, that infrastructure investment starts with replacing the service lines that are leaching lead into the city's water. An estimated 25 percent of Pittsburgh's homes — some 20,000 — have lead service lines.
The city estimates that replacing the lines would cost $410 million, but Wagner maintains it would cost far less. And a RAND Corporation report seems to agree. According to the research group's analysis, complete replacement could cost anywhere between $50 million and the $410 million the city has estimated.
Wagner estimates it would cost $60 million, and could be completed in five years. Her estimate is based on the cost being paid by Pennsylvania American Water, which provides water to homes in Pittsburgh and surrounding suburbs. Penn American is replacing its lead lines for approximately $3,500 each, and Wagner believes PWSA could do it for less.
"My emphasis has continued to be on trying to bring truth and transparency to the actual cost of replacement," Wagner says.
Wagner has also been vocal about the importance of PWSA fully replacing lead service lines. In the past, PWSA has done only partial line replacements because both it and the city say state law prohibits replacement of the portion of any service line on private property.
But last month, Pittsburgh City Council approved legislation directing PWSA to do full replacements.
Wagner is concerned that progress replacing the lines been slow. But she says that at least it's a step in the right direction.