Staff writers Jordan Snowden and Amanda Waltz were given an assignment: decorate a cubicle for Halloween for less than $25. Jordan went to Michaels, Amanda went to Rite Aid. How did they do?
Jordan: It's the middle of October, yet all the Halloween merchandise is already 50-percent off. Thanksgiving items have already taken over the aisles at Michaels, and the Halloween section was half-empty. While getting everything on sale is amazing, what's all the rush with the holiday supplies? My Halloween spirit is just starting to emerge.

Candy Corn String Lights – $3.99

These lights constantly tempt my sweet tooth, but it's okay because the glow added a warm, eerie vibe to my cube.
Assorted Mini Pumpkins - $4.99

What's Halloween without pumpkins?
Skeleton Hand w/ Rose - $4.99

This hand is my spirit object. Just the right amount of soft, subtle spookiness.
Stack of Books – $8.49

Be nice, or I'll put a spell on you.
Total – $22.46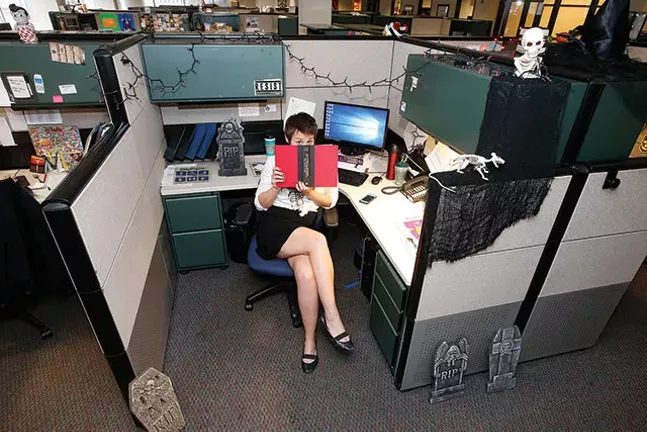 Amanda: Because of its close proximity to my house, I often shop at Rite Aid, mostly to buy Jalapeño Cheddar Cheetos. I figured I'd check out its spooky, non-cheese snack offerings. The Halloween aisle focused more on costumes than décor, but I managed to snag a couple fun items to turn my cubicle into a purple-lit graveyard. Bonus: everything was 50-percent off, probably to make room for the way-too-early Christmas merch.

Creepy Cloth Decoration - $1.99

The only disappointment with this Creepy Cloth Decoration is that I planned to drape it over my little work space. The deceptive label said it measures 30-by-70 inches, but it came out about as big as a bandana. Not cool, Rite Aid home brand.
Skeleton Rat - $3.99

I love this little rat. It has a movable mouth and a long, bendy tail, so you can hang it or attach it anywhere. In my case, I wrapped it around the edge of my outer cubicle wall.
Light Up Skeleton - $4.99

Chin-in-hand, this skeleton has a look that says, "Tell me about it, girl!" You just want to spill every detail about your bad day at work as you sip a second glass of sparkling rosé. You really get me, sympathetic Halloween skeleton. And you light up!
(2) Mini Purple Light Sets – $7.98

My overall impression of Halloween décor is that orange and purple are now the official holiday colors. I can't complain, as purple is a softer, more aesthetically pleasing alternative to the previously preferred red. And it means my cubicle looks like it was blessed by the spirit of Prince.
Four-Piece Tombstone Set - $6.49

Four foam tombstones for under $7? What a deal.
Total: $25.44

Take on Jordan and Amanda and IG the results @pghcitypaper