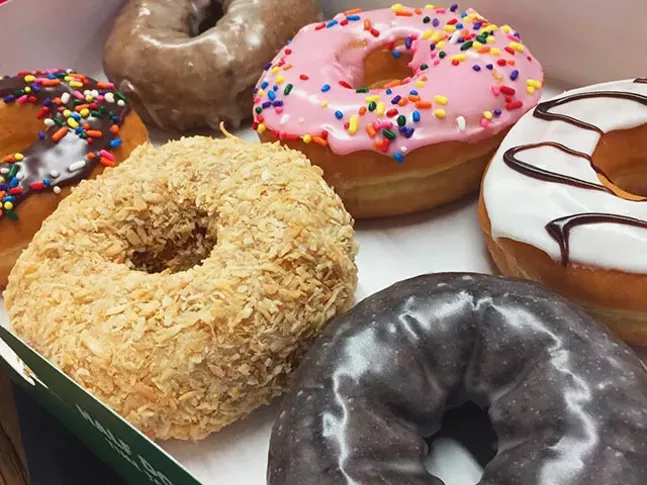 Today, Fri., June 7, is National Doughnut Day. Eat every powdered-covered, jelly-filled, and sprinkle-splashed doughnut you can get your hands on, because this day rolls around just once every year.
We've got your holiday covered with some of Pittsburgh's best doughnut shops and holiday deals. Whether you're vegan, gluten-free, or just plain hungry, there's a doughnut for you on this list.

Bethel Bakery
5200 Brightwood Road, Bethel Park. bethelbakery.com
Stop by the Bethel Park Bakery today for a free glazed doughnut (yes, other doughnuts will still be available for purchase.)
Just Good Doughnuts
1830 E. Carson St., South Side. justgooddonuts.com
It's impossible to resist Just Good Doughnut's crazy creations. Forget sprinkles! This doughnut shop garnishes with fresh berries and candy bars.
Wolf Teeth Doughnuts
3138 Dobson St., Polish Hill. kaiburcoffee.com
Attention, vegans and vegetarians: these are the doughnuts for you. To celebrate the holiday, Wolf Teeth baker M.J. Flott is making themed pastries to the music by Roky Erikson.
Gluten-Free Goat Bakery & Cafe
4905 Penn Ave., Garfield.
The Gluten-Free Goat covers it all. Their products are gluten-free, soy-free, corn-free, and oat-free. Treat yourself to a deliciously vegan chai spice doughnut.
Oakmont Bakery
1 Sweet Street, Oakmont. oakmontbakery.com
This gigantic, beloved Pittsburgh bakery is giving away free doughnuts with every purchase. Coffee and a doughnut, please!
Bitter Ends Garden & Luncheonette
4613 Liberty Ave., Bloomfield. tillthebitterends.com
Every day, chef Becca Hagerty creates a doughnut glaze based on their garden goods. Today's doughnut is strawberry with parsley splatter.
Dunkin'
Multiple locations. dunkindonuts.com
Of course, there's Dunkin'. All day, every Dunkin' store is offering a free classic doughnut with the purchase of a drink.