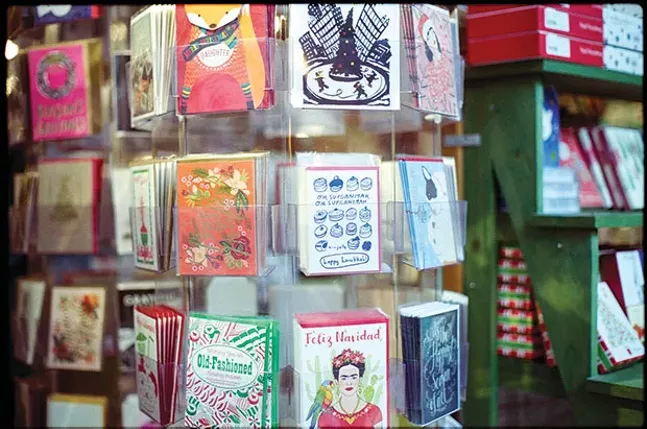 Everybody loves something with "yinz" written on it. In Pittsburgh, this usually means buying a cheaply made item of questionable quality that was made nowhere near the Steel City.
But there is a better way to celebrate your Pittsburgh pride. The region is home to five cool boutiques that supply a plethora of gifts like jewelry, clothing and decorations with Pittsburgh-specific themes. Also, many of the gifts are made in Pittsburgh, either by local artisans or by the shop owners themselves.
Skip the knock-off Steelers gear and give these shops a try.
Wildcard
This sweet shop is right in the heart of Lawrenceville's Butler Street shopping district. Wildcard features specialty cards, trinkets, books, candles, decorations and clothing. Many items display Pittsburgh pride, like retro-looking shirts with Forbes Field emblazoned on the front and coasters with maps of Pittsburgh printed on them. Wildcard also carries a wide array of tote bags and jewelry, even incline-shaped earrings. The shop prides itself on selling items made by Pittsburgh artists, but offers some non-Pittsburgh items too. After shopping, patrons can enjoy the many other small businesses in the area, including restaurants, coffee shops, a bowling alley and furniture stores.
4209 Butler St., Lawrenceville. 412-224-2651
"love, Pittsburgh"
Kelly Sanders and Monica Yope opened up the love, Pittsburgh gift shop in Mount Washington this July and filled a much-needed market. For years the neighborhood that attracts scores of tourists, thanks to its two inclines and gorgeous views of Downtown Pittsburgh, never had a gift shop. Now, patrons can walk just a few hundred yards from the Monongahela Incline to a small shop filled with Pittsburgh-themed gifts. All items are sourced from Pittsburgh artists and makers. Pick up Pittsburgh-theme tree ornaments, shirts, or even beer koozies.
301 Shiloh St., Mount Washington. 412-208-1234
Robin's Nest
This is the store to go to if you are looking to buy art that would make anyone from the Steel City proud. Robin's Nest opened in 2014 on Penn Avenue in Friendship, joining the fast-growing business district that now includes a Primanti Bros., a coffee shop, the Pittsburgh Glass Center and sneaker shop Refresh PGH. Robin's Nest offers a wide array of wall art, including artistic and cartoony maps of Pittsburgh. Many of the items are handmade. The store also sells home décor, jewelry, handbags and ceramic vases: all the perfect items to fill your own nest.
5504 Penn Ave., Friendship. 412-362-2600
The Artsmiths of Pittsburgh
Explore this expansive 10,000-square-foot space in Mount Lebanon and shop for local artists' works. Kate McGrady opened Koolkat Designs in 2006, and featured the work of 22 local artists. Koolkat quickly outgrew its space, and McGrady expanded in 2015, renamed her shop Artsmiths, and moved into a renovated hardware store. Artsmiths has hosted hundreds of artists since. Two showrooms display ceramics, glass works, jewelry, apparel, paintings, prints and woodworks. In addition to buying Pittsburgh-made and Pittsburgh-themed art, patrons can also participate in art classes and view rotating exhibitions that Artsmiths curates.
1635 McFarland Road, Mount Lebanon. 412-341-2299
Songbird Artistry
The boutique in Bloomfield specializes in jewelry, knit items, glassware, and screen-printed apparel. The shop is owned and run by a mother and her daughters. Songbird offers a plethora of handmade items perfect for one-of-a-kind gifts. The shop also has a collection of Pittsburgh-specific tote bags and onesies for toddlers that read "I'm a 'burgh baby."

4316 Penn Ave., Bloomfield. 412-427-5500