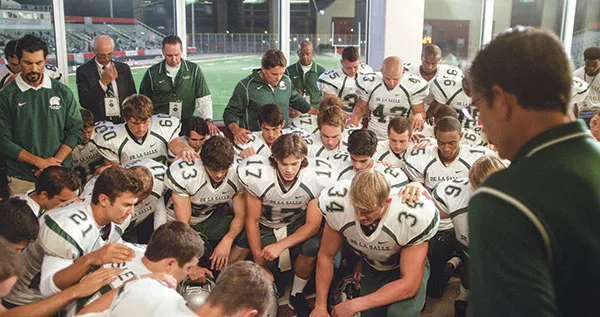 Pretty much every inspirational sports movie has a speech about how winning doesn't matter — it's about the team, the sanctity of the game, the memory of the dead person they're playing for, and so on. But when all the scenes of tears, man-hugging and deity-invoking are over, it really is all about winning. Even when teams lose, it's simply so they can win later.
Thomas Carter's film When the Game Stands Tall can't get away from winning, no matter how hard it tries. Based Neil Hayes' book, it tells the mostly true story of De La Salle, a Northern California high school football team that racked up a 151-game winning streak between 1992 and 2003.
Then some bad things happened, including a health crisis for head coach Bob Ladouceur (Jim Caviezel) and a loss. The team loses its mojo and has to be rebuilt on drills, prayer, more humiliating losses, more prayer, the stepping-up of unlikely players and learning that it's not about winning so, in fact, they can win again.
The choppy narrative makes following individual team members challenging. I know, I know — it's about the team, but Carter sets up several storylines about players. The one designed to bait emotions concerns senior Chris Ryan (Alexander Ludwig), whose jerk dad is browbeating him about a state record. The resolution of that subplot made me want to throw 100 flags on the field. (No need to get too invested: These two characters were written for the movie.)
Ultimately, When the Game Stands Tall is as much about religious faith and the molding of purpose-driven young men as it is about touchdowns. (This is a PG film that contains only these two directly quoted profanities: "aw heck no" and "the s-word.") But for a film that is warm and fuzzy about feelings and faith, I did note how violent the game scenes were, with plenty of ugly tackles and heads cracking, all amped up with sound effects. There've got to be better ways to build young men than by having them pummel each other, driven by locker-room-issued platitudes about brotherhood. But, you know, if you want to win ...