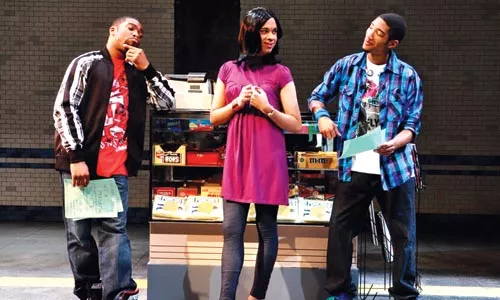 There's something to be said for people like playwright Cori Thomas, who look around and see only the good things. The world can be such a dark place, overstuffed with frightening challenges, and yet Thomas continues hop-skipping down her Technicolor lane, stopping every now and again to smell the pretty flowers. Such relentless optimism must make her, among other things, a terrific friend. But I'm not sure how well it serves her as a playwright.
City Theatre presents the world premiere of Thomas' comedy/drama When January Feels Like Summer. We're in New York City, following the lives of Nirmala, an Indian woman whose husband has been lying in the hospital brain-dead for three years; her brother Ishan, whom we soon learn is beginning a transition to be the transsexual Indira; two young men, Devaun and Jeron, both of whom have more dreams than sense; and a regular customer at Nirmala's newsstand, a man named Joe.
Thomas does a very nice job suffusing these characters, and her play, with a great deal of humanity. At its core, When January Feels Like Summer is simply, and sincerely, about five people aching for love.
Thomas believes they should have it; in fact, Thomas believes that love will erase every other problem they have. She sets them down in a dangerous world, but refuses to acknowledge that danger. Her characters are so oblivious to life's treachery that I initially thought she was commenting on their inability to see.
But in the second act, I realized that Thomas won't (or can't) see it herself. A little sweetness can go a long way, but Thomas writes herself into a corner in the play's climax, which honestly feels like the end of a Disney movie ... a grown-up Disney movie, perhaps, but still resolved through a random and unrealistic flight of whimsy.
Director Chuck Patterson supplies some grittiness with an intense and agile acting style from the cast, who fully exploit the big-hearted nature of the roles. Gita Reddy and John Marshall Jones are about as charming as you can imagine playing Nirmala and Joe. Joshua Elijah Reese and Carter Redwood are very funny playing up the verbal idiosyncrasies of the two street kids. And while Debargo Sanyal has the least believable character, he manages to play Ishan with an enormous amount of sincerity.
When January Feels Like Summer continues through Sun., April 11. City Theatre, 13th & Bingham streets, South Side. 412-431-2489 or www.CityTheatreCompany.org