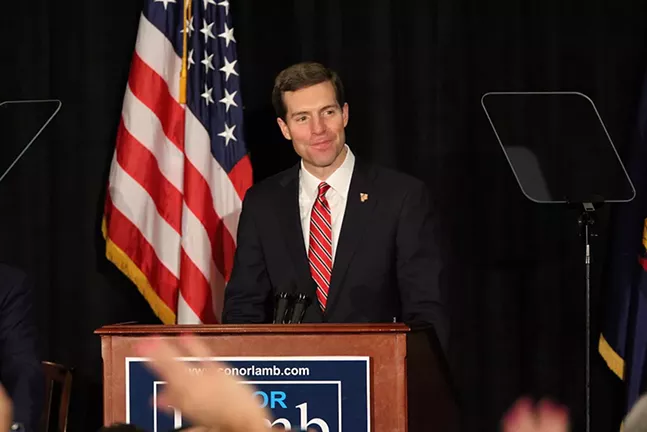 Considering they lack a majority by 38 seats, the victory secured by U.S. House Republicans last week was remarkable.
During a procedural vote on Democrats' effort to pass
background-check legislation
for firearm purchases, 26 Democrats, including local U.S. Rep. Conor Lamb (D-Mount Lebanon), voted with Republicans that
amended that bill
. A procedural vote is one that occurs during the debate of the bill in question, typically to add amendments or change language to a bill.
The universal background-check bill passed with Lamb's support, but thanks to the procedural vote, Democrats voted on a bill that included an amendment to ensure U.S. immigration officials (ICE) are tipped off when an undocumented immigrant attempts to purchase a gun.
It was an impressive display of political maneuvering by the Republicans, but it was really only possible because Democrats opened the door for them.
When bills are discussed on the House floor, the minority party is allowed a Motion to Recommit, which is typically used to amend bills at the last minute or even neutralize bills entirely. Typically, the majority votes in unison against these motions (MTRs) so its attempt at passing legislation isn't altered. For example, when Republicans were in control of the House from 2010-2018, they never let an MTR pass.
But according to
Politico
, Democratic Majority Leader Steny Hoyer (D-Maryland) gave swing-district representatives his blessing to do so as a way to avoid criticism from conservatives. Frequent Democratic defectors include U.S. Reps. Joe Cunningham (D-South Carolina), Anthony Delgado (D-New York), Josh Gottheimer (D-New Jersey), Jeff Van Drew (D-New Jersey), and Lamb.
Lamb's defection during the gun-control bill wasn't the first time he
joined Republicans
in voting for MTRs. He has sided with the GOP on six MTRs this year, and sided with Democrats for nine MTRs.
Most of Lamb's MTR votes involved attempts to slightly alter budget appropriation bills and it's difficult to discern a pattern of why Lamb voted with Democrats or with Republicans.
For example, he voted against Republicans when they attempted to transfer funds from the Information Technology Fund to the Public and Indian Housing Tenant-Based Rental Assistance account, but voted with Republicans when they tried to move money from the General Services Administration Real Property Activities Federal Buildings Fund to the Office of Terrorism and Financial Intelligence Salaries and Expenses.
But Lamb also voted twice with Republicans for
MTRs
that merely tried to block Democrats' attempts at ending the government shutdown, on Jan. 15 and 24. Those MTRs failed, but the the appropriations bills eventually passed with Lamb's support.
"Conor votes on what's in front of him, no matter which party proposed it," says Lamb's spokesperson Reenie Kuhlman. "That's what the people of our district have asked him to do. He has voted for Motions to Recommit that he agreed with, and he has led the fight to defeat others on the House floor."
According to
ProPublica
, Lamb has
voted against the Democratic Party
nine times in this current congress, which is 9.7 percent of the time and higher than the 3.5 percent Democratic average. Of those nine votes, six have been for MTRs.
Washington Post
politics writer Dave Weigel points out these MTR votes could be used to boost representatives' bipartisan vote record.
This is embarrassing to Dems in real time, but doesn't it let the swing seat Dems keep padding their bipartisan vote record ahead of 2020? Like imagine if Carlos Curbelo had a bunch of liberal MTRs to talk about back home. https://t.co/N03rDB6SKC

— Dave Weigel (@daveweigel) February 27, 2019
But as Politico reports, some Democrats feel Republicans are only trying to force representatives into uncomfortable votes that can be aired attack ads later. Even though Republicans often air attack ads regardless of candidates' stated principles. For example, Lamb consistently disavowed support for now-Speaker Nancy Pelosi during his campaign, but GOP attack ads were aired claiming Lamb supported Pelosi anyway.
And the Republicans appear to be discovering the power they have here with MTRs. According to Catholic University political scientist
Matthew Green
, Democrats have been steadily increasing support for MTRs since January.
Note the growth in Dem defections vs. the MTR since January pic.twitter.com/Yq8x0Sx6z1

— Matthew Green (@mattngreen) February 28, 2019
Pelosi has called for unity in voting against MTRs among the growing number of Democratic defections.
Some Democrats believe GOP lawmakers aren't making good-faith attempts to change legislation and are merely attempting to score political wins to hamper Democratic bills. And it's not just Democrats in safe districts making this argument.
U.S. Rep. Katie Hill (D-Calif), who flipped a House seat by a smaller margin than Lamb's latest victory, told
Politico
that "Clearly [Republicans] are doing this as a ploy and not because [they] actually give a shit about the issue." Hill has never voted against the Democrats on any MTRs.
Factor this into the MTR to amend the background check bill to include a section ensuring ICE is contacted when undocumented immigrants attempt to purchase firearms. This might seem like a slam dunk amendment, but as with many bills, nuance emerges.
Take
"nonimmigrant aliens,"
or people who are authorized to be the U.S. on temporary visas. The Bureau of Alcohol, Tobacco, Firearms and Explosives permits them to hunt with firearms if they get permits. But what if they overstay their visa or fail to renew it on time, the most common reasons immigrants become undocumented, and then attempt to purchase a gun, even though they were allowed to before? Should this be grounds for contacting ICE and potential deportation?
This is the kind of question that likely won't be raised in the 10 minutes allocated for debate for MTRs. Additionally, U.S. Rep. Ben Cline (R-Virginia) introduced a
standalone bill
shortly after the passed amendment to ensure ICE is contacted when undocumented immigrants try to purchase guns. If Republicans believe that the bill stands up on its own merits, why would they try to include it into a broader bill when there is such little time to discuss it?
Political scientist Green may provide an answer. He tweeted on Feb. 28, "technically [an MTR is] the minority's last chance to amend a bill. Seldom is it a genuine attempt to make policy."
He also provided a warning to Democrats if they continue down this MTR-supporting path. "If Dems vote for them regularly, they can't be dismissed as meaningless, which then empowers the minority," tweeted Green.