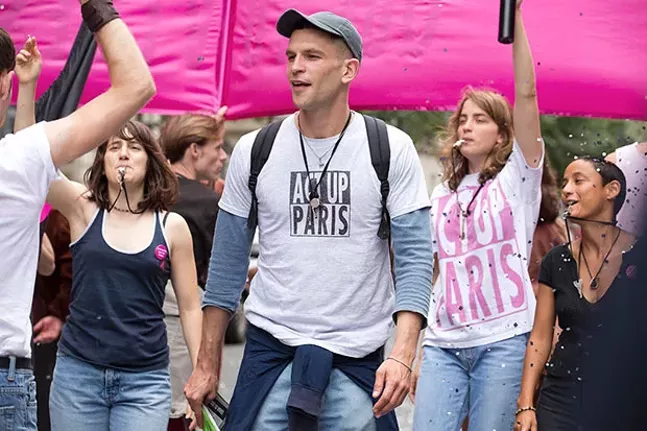 LEGEND. Tom Cruise stars in Ridley Scott's 1985 fantasy adventure about a young man who must stop a demon from destroying unicorns, sunlight and the woman he loves. The film screens as part of a series of earlier Tom Cruise films. 1:45 p.m. Wed., March 28; and 7:15 p.m. Thu., March 29. Row House Cinema, Lawrenceville. www.rowhousecinema.com
EYES WIDE SHUT. A New York City couple (Tom Cruise, Nicole Kidman) finds their relationship tested by a series of sexual encounters, in Stanley Kubrick's 1999 drama. The film screens as part of a series of earlier Tom Cruise films. 3:45 p.m. Wed., March 28; and 1:30 p.m. Thu., March 29. Row House Cinema, Lawrenceville. www.rowhousecinema.com

SPICE WORLD. Pick your favorite — Sporty, Posh, Baby, Ginger or Scary — and make tracks for the Cool Britannia of the 1990s. Zigga zigga ha! Bob Spiers directs this 1997 musical comedy featuring the Spice Girls. The film screens in a "Girl Power" double-feature with The Craft. 6 p.m. daily, Wed., March 28, and Thu., March 29. Regent Square. $8 ($10 for double-feature). www.cinema.pfpca.org

TOP GUN. Can Tom Cruise, the macho-sensitive, supersonic Navy pilot, still take your breath away? Find out whether Tony Scott's 1986 action-romance still flies high. The film screens as part of a series of earlier Tom Cruise films. 7 p.m. Wed., March 28; and 9:30 p.m. Thu., March 29. Row House Cinema, Lawrenceville. www.rowhousecinema.com

THE CRAFT. Witchcraft in high school! Robin Tunney, Neve Campbell and Fairuza Balk star in Andrew Fleming's 1996 horror melodrama. The film screens in a "Girl Power" double-feature with Spice World. 8 p.m. daily, Wed., March 28, and Thu., March 29. Regent Square. $8 ($10 for double-feature). www.cinema.pfpca.org

RISKY BUSINESS. Paul Brickman directs this 1983 comedy about a teen (Tom Cruise, in Ray-Bans) who throws a big party when his parents are away. The film screens as part of a series of earlier Tom Cruise films. 9:30 p.m. Wed., March 28; and 5 p.m. Thu., March 29. Row House Cinema, Lawrenceville. www.rowhousecinema.com

MARJORIE PRIME. Jon Hamm and Tim Robbins star in this sci-fi dramedy, set in the near future, in which people interact with holograms of deceased loved ones. Michael Almereyda directs. The film will be introduced by a doctor and an occupational therapist, both of whom treat patients with dementia. 6:30 p.m. Thu., March 29. Tull Family Theater, 418 Walnut St., Sewickley. www.thetullfamilytheater.org

BPM (Beats Per Minute). Robin Campillo's ensemble drama focuses on ACT UP Paris, a group of AIDS activists in the early 1990s. They hold lengthy, informative meetings; stage headline-grabbing actions against pharmaceutical companies; and support each other through tough times and late-night dance parties. Slowly emerging from the depiction of the group's mission is a sweet and emotionally wrought love story between two members, one who is HIV+ and lives "his politics in the first person." A powerful document of a heartbreaking, yet hopeful, period. Screens as part of Carnegie Mellon International Film Festival: Faces of (In)Equality. In French, with subtitles. 7 p.m. Thu., March 29. McConomy Auditorium, CMU campus, Oakland. $10 ($5 students/seniors). www.cmu.edu/faces (Al Hoff)

THE BROTHER FROM ANOTHER PLANET. John Sayles directs this 1984 film about a space alien (Joe Morton) who looks like a black man, and finds himself in Harlem and under pursuit from inter-planetary bounty-hunters. Screens as part of a week-long series of black action films. 12:15 p.m. Fri., March 30; 7:10 p.m. Sat., March 31; 1:15 p.m. Sun., April 1; 4:45 p.m. Mon., April 2; 9:30 p.m. Tue., April 3; 2:15 p.m. Wed., April 4; and 7 p.m. Thu., April 5. Row House Cinema, Lawrenceville. www.rowhousecinema.com

BAD BOYS. Will Smith and Martin Lawrence star in Michael Mann's 1995 actioner, about two Miami cops juggling two tasks: retrieving a bunch of drugs stolen from the station, and protecting a witness. Screens as part of a week-long series of black action films. 2:30 p.m. Fri., March 30; noon and 9:30 p.m. Sat., March 31; 3:30 p.m. Sun., April 1; 7 p.m. Mon., April 2; 4:30 p.m. Tue., April 3; 9:15 p.m. Wed., April 4; and 2:30 p.m. Thu., April 5. Row House Cinema, Lawrenceville. www.rowhousecinema.com

CLEOPATRA JONES. Don't let the fact that she's a lady fool you: Cleopatra Jones (Tamara Dobson) is a kick-ass special agent, set on taking down a major drug dealer, who is also a lady (Shelley Winters). Jack Starrett directs this 1973 film. Screens as part of a week-long series of black action films. 5 p.m. Fri., March 30; 2:30 p.m. Sat., March 31; 6 p.m. Sun., April 1; 9:30 p.m. Mon., April 2; 2:30 p.m. Tue., April 3; 7:15 p.m. Wed., April 4; and 5 p.m. Thu., April 5. Row House Cinema, Lawrenceville. www.rowhousecinema.com
THE HARDER THEY COME. In this 1972 Jamaican film from Perry Henzell, a singer from the country (Jimmy Cliff) tries his luck in the big city, but only rounds into trouble. The cult-classic film and its popular soundtrack helped introduce the world to reggae music. Screens as part of a week-long series of black action films. In Jamaican patois, with subtitles. 7 p.m. Fri., March 30; 4:30 p.m. Sat., March 31; 8 p.m. Sun., April 1; 2:15 p.m. Mon., April 2; 7 p.m. Tue., April 3; 4:45 p.m. Wed., April 4; and 9:15 p.m. Thu., April 5. Row House Cinema, Lawrenceville. www.rowhousecinema.com

THE DEPARTURE. Lana Wilson's documentary follows Ittetsu Nemoto, a Buddhist priest who's dedicated his life to counseling suicidal people. His calendar is filled, leaving little time for himself, his wife and toddler, or the dance clubs he visits to blow off steam. Some of the sessions are held one-on-one over soup, some take place in group retreats at the temple, but he's consistently able to leave his subjects on a hopeful note. Nemoto is a mesmerizing and gifted counselor, and as the film goes on, you get the sense that he should take some of his own advice. He's aloof at home and his health is fading. The film, like its main subject, is a quiet exercise in empathy that's likely to leave audiences more hopeful than defeated, if only by a hair. Screens as part of Carnegie Mellon International Film Festival: Faces of (In)Equality. 7 p.m. Fri., March 30. McConomy Auditorium, CMU campus, Oakland. $10 ($5 students/seniors). www.cmu.edu/faces (Alex Gordon)

MUSTANG. After school, five teenage sisters innocently goof around with some boys at the beach. But in their small, conservative Turkish village, this transgression earns them a staggering punishment: Their guardians — an uncle and a grandmother — lock them up in the house. For good — or at least until their arranged marriages "free" them.

This 2015 coming-of-age film is the first feature from actress-turned-director Deniz Gamze Ergüven. It's a contemporary and feminist adaptation of the classic fairy tale in which a young princess is imprisoned in a high castle, and its sunny moodiness also recalls the similarly themed work The Virgin Suicides. It's a pointed critique of a patriarchal culture that denies these young women agency, replete with "traditional" restrictions like wearing dowdy clothing and indignities such as virginity tests.
It sounds like depressing subject matter, but the film, in spite of its serious themes, is surprisingly light and even joyful. The sisters are high-spirited and unbroken (like the titular wild horse). They often act as a group, and Ergüven films them in scenes of easy intimacy underscoring both their closeness and their shared ordeal. The film stumbles a bit in the final reel, where plot devices trump the looser narrative vibe. Your head may squawk a bit, but your heart will root for these free-spirited girls. In Turkish, with subtitles. Fri., March 30, through Thu., April 5. Regent Square. www.cinema.pfpca.org (AH)
SPACE IS THE PLACE. Producer Jim Newman's dream of making a concert film about jazz giant Sun Ra and His Arkestra was grafted to director John Coney's love for cheesy science fiction and desire to address Nixon-era social turmoil, and the result was 1974's Space Is the Place, a tres bizarre, laughably campy and deadly serious feature film suggesting how avant-garde jazz might contribute to black empowerment. After descending to earth in a spaceship, Ra simultaneously prepares for an Arkestra concert and, over a magical card table in the middle of the California desert, battles a villainous, pimped-out African-American named the Overseer for the souls of black folk (or at least the fate of the planet). Sun Ra, wearing a gold-coin headdress, plays keyboards, runs the Outer Space Employment Agency, revives a mummy, gets kidnapped, and answers a casual query of "What's happening?" with a grave "Everything's happening." (Ra also wrote all his own lines.) Government surveillance, gunplay, Huey Newton posters and blaxploitation tropes including gratuitous nudity share the screen with Ra's signature Egyptian motif, including followers in golden ibis masks, as he tries to make good on his promise to found a black colony in the starry reaches. "Everything you're denied on this earth … will be given to you in outer space," Ra proclaims — and it might sound like Massa's promise of heavenly rewards, if only Ra weren't claiming the power to make it happen right now. 9:35 p.m. Fri., March 30. Row House Cinema, Lawrenceville. www.rowhousecinema.com (Bill O'Driscoll)

OTHER FILMS AT Carnegie Mellon International Film Festival: Faces of (In)Equality. Scarred Hearts, a Romanian period drama set in the 1930s (4:30 p.m. Wed., March 28); a short-film competition (3 p.m. Sat., March 31, at Melwood Screening Room, Oakland); Clash, a drama set in Egypt's recent political turmoil (4 p.m. Sun., April 1); Risk, a doc about WikiLeaks' Julian Assange (7 p.m. Wed., April 4); the doc Mali Blues, featuring musician from the West African country (3:30 p.m. Thu., April 5, at Carlow University, University Commons 323; and 7 p.m. Thu., April 5, at Carnegie Museum of Art Theater, Oakland); and Bombshell, a doc about Hollywood actress and inventor, Hedy Lamarr (7 p.m. Fri., April 6). Unless stated otherwise, all films screen at McConomy Auditorium, on the CMU campus, in Oakland. Tickets are $10 ($5 students/seniors). More information at www.cmu.edu/faces.