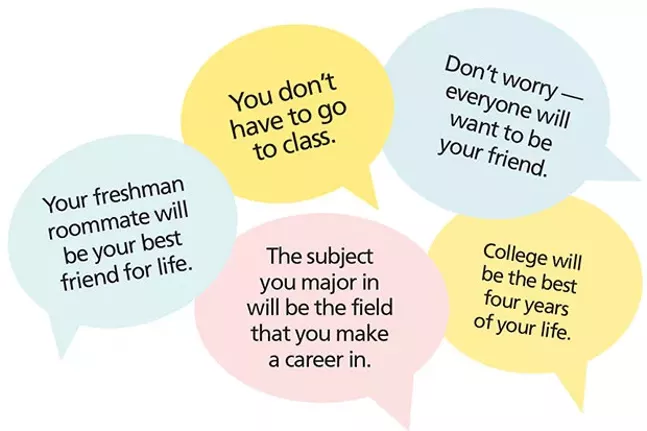 What your parents tell you:
1. You don't have to go to class.
2. Don't worry — everyone will want to be your friend. (Or, don't worry — making friends is easy.)
3. The subject you major in will be the field that you make a career in.
4. Your freshman roommate will be your best friend for life.
5. College will be the best four years of your life.
What's true:
1. Back in the day, nobody cared if you showed up to class as long as you passed the tests. These days, attendance is often part of your grade, with only two or three forgiven absences — which you should save for when you're actually sick.
2. While it's true that you shouldn't worry about making friends, you also shouldn't sit back and wait for people to flock to you. Get out of your room, join clubs that interest you and hang out in the lounge, and you'll have a group of friends in no time.
3. The statistics vary, but most say that at least half of graduates will work in fields that they didn't major in. Don't panic if you're not sure what to choose, or if what it says on your degree isn't what you want to do. Currently, work experience tends to matter more than what you studied, so try to land internships in your desired field.
4. So your dad's freshman roommate ended up being the best man at his wedding — that isn't the norm. Some people will be close with their roommates, but many won't be. Don't force a friendship if it's not there. It's better to have a roommate you're casually acquainted with than one that you had a falling-out with.
5. First of all, it could take you more than four years. Graduating in five or six years is fairly common these days, because of changing majors, transferring, or taking lighter class loads to keep a job through school. Second, just like every other time of your life, there is a mixture of good and bad. Sure, college is fun and exciting, but it is also a stressful, high-pressure time. Set your expectations realistically so that you don't feel like the only one who isn't living a non-stop party, because no one is.