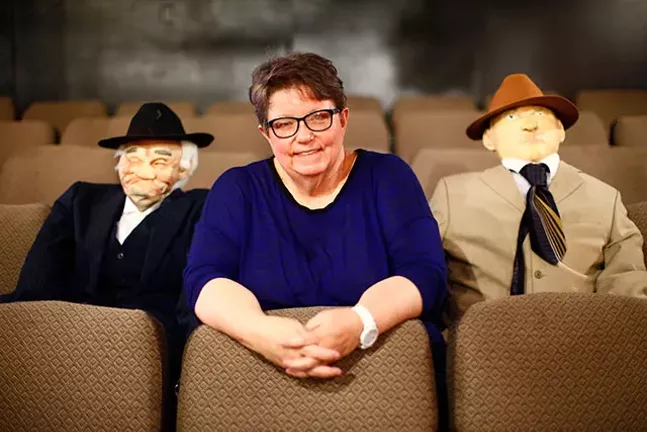 Name: Lora Oxenreiter, Carrick
Title: Play Selection Manager of New Works Festival, an annual event that showcases original one-act plays produced by regional theater companies
What do you do?

I handle all incoming submissions, from 250 to 350 each year. Each is read by two readers who score them. The top 35 go to the directors. We have a play selection meeting, and each company chooses their first. Once it's in the hands of the companies, my job is kind of done at that point, but we send critiques. Every playwright gets two regardless of how far they get in the process.
Does this go on throughout the year?

We open submissions normally on Jan. 1 and deadline in April. This year, because we were moving the festival to another venue, we did it a little later. Once we have about 50 or 60 scripts in, I get started with my readers. Those readers then have a deadline that they have to come up with critiques by. In June, we have a meeting where all of the companies come together.
It slows down towards the deadline; then, on the deadline day, we get a hundred, because everybody waits until the last minute.
Who are the writers who submit?

They come from everywhere. I'm directing one from a playwright from New York City this year, but they come from California [and] work for Disney. We've produced shows from playwrights from Sweden, Switzerland, France, Germany, all over the place. Primarily they're from the United States, but they're from all over the place.
Is there a standard percentage of local writers?

It changes all the time. You're reading this anonymously; you have no idea who this is from. We're adamant about the playwrights not putting their name on the title, and if they do, we'll block it out. We now have a reading series that takes place, and we're trying to take the scripts from local playwrights that aren't selected and focus on them that way. But it is the Pittsburgh New Works, but not the PITTSBURGH New Works.
How do you find readers?

I reach out to anybody that I know that is intelligent, that understands what it's about, what a good play's about, and cross my fingers. It takes time. You have to write a critique, explain your answers. This year we had five drop out, and I ended up reading 50 scripts. It's a lot, but that's what happens sometimes when you're Play Selection Manager, you end up picking up the slack.
Do the playwrights participate beyond the first script submission?

We're all about playwrights, and we stress over and over again to all the directors and companies that the playwright must be involved with this process. You cannot just make decisions on your own. You want to change one word in that script, you need to ask if that's okay. This is about the playwrights. This is not about your vision. If you have a vision that you think they might be open to, you have to pass it by them.
What is the best part?

I love working with playwrights. I think collaborative effort with a playwright working on a new piece with a theater is very exciting. For the most part, I've always been lucky enough to get playwrights that are open to my suggestions. Years ago, I told a playwright, "This is missing something. You need another character," and he actually rewrote it and added a character which made all the difference. That's very exciting to me.
I do it because I love the process. I love when a playwright is involved. It's how they see what works and what doesn't. And if they want to do a rewrite, we do a rewrite.