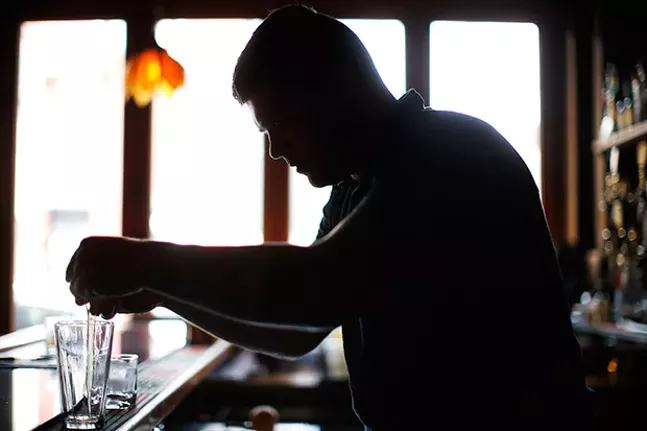 What should we do this weekend? This simple question is asked in relationships across America. But for people "in the industry," the answer is usually "I have to work."
The work week to people in The Biz, aka the service industry, usually begins on Wednesday or Thursday (depending on bar or restaurant type, atmosphere, etc.) and ends on Sunday (or after Monday Night Football in Steelers Country). Weekends off are few and far between. So, when that rare occasion occurs, where does the bar staff like to go out?
First things first: weekends are the lifeline of our industry. All of our money depends on you, the customer. A Saturday night off can be a huge swing in the wrong direction; money spent instead of money earned can really add up. So, if you see bartenders out on a Saturday night, we are ready to get the party started.
As observed from my years behind the bar, staffers tend to go places where we "know someone." Whether it's the security guard at the front door, a bartender or a waitress — it doesn't really matter. A friendly face in the crowd makes the night immediately better.
When I first entered The Biz, I would often introduce myself to the staffer whom I didn't know at bars I frequented; told them where I worked, too. This behavior seemed silly to friends from the outside, but my familiarizing with Biz brothers and sisters made a huge difference. At one point, I knew someone on every shift at Jack's Bar, Smokin' Joe's Saloon and all the clubs in Station Square (RIP). Knowing somebody on staff afforded me perks: skipping lines, getting drinks faster and not getting kicked out if a friend stole the tip horn from behind the back bar and honked it at random people.
Where staffers go on a night off is not so much about the place, but what the place represents. Bar life creates a family of employees by bringing together people from all different backgrounds.
Staffers usually end up at our places of work at some point on a night off. Why? It's a safe zone. No matter how much we've had to drink, how many times we've gone behind the bar or how many dance parties we've started in the service station, we have the blessing of those enforcing a bar's rules that evening. These places we call work are our homes away from home, so our colleagues working know they needn't worry about us as they would other rules-stretching patrons.
It's fun for staffers working when employees show up after we've had a little too much somewhere else. Now they get to make fun of us if we make out with a stranger on the dance floor or fall asleep in a booth after last call. Gives them a bit of ammo if we try to sneak out of our shift the next day, too.
Tracy Molyneaux, a longtime bartender at Carson City Saloon on the South Side, is now part of the ownership group at Coughlin's Law Kitchen and Ale House in Mount Washington.