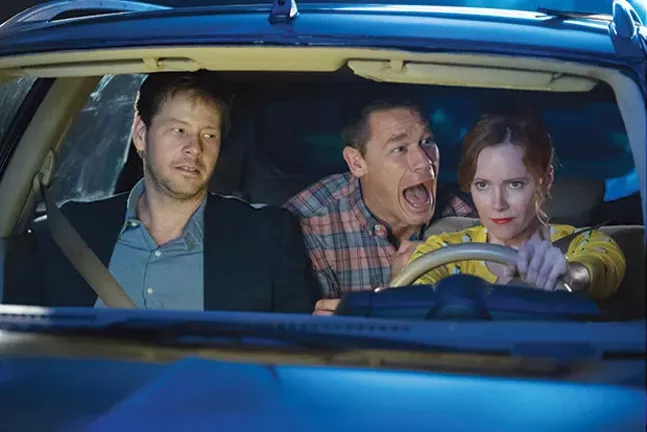 BEIRUT. Jon Hamm and Rosamund Pike star in Brad Anderson's political thriller about CIA operatives who have to work with a diplomat to retrieve a colleague.
BLOCKERS. In Kay Cannon's new comedy, three parents (Leslie Mann, John Cena, Ike Barinholtz) try to stop their high school daughters from having sex on prom night. This ripped-from-the-Old-Testament plot point never really stops being squicky, but the film piles on enough vulgar hijinks that you sort of forget about it. I mean, when a pantless John Cena is hunched over getting a beer poured up his ass through a tube, who is thinking of teenage chastity? And it's the parents that bear the brunt of the film's mockery for being these sorts of parents, even as Blockers gets to have it both ways. It all plays out as you'd expect, with the final reel letting everybody have their say. Nothing, though, absolves this film from using such a tiresome, sexist premise as a starting point. (Al Hoff)

FINDING YOUR FEET. Richard Loncraine directs this dramedy about a snobbish middle-class woman who has to move in with her arty sister, who lives in public housing. The film features a slate of reliable British comic actors, including Imelda Staunton, Joanna Lumley, Celia Imrie and Timothy Spall. Starts Fri., April 13.

PITTSBURGH JAPANESE FILM FESTIVAL. The two-week celebration of new and classic Japanese films continues at Row House Cinema. See CP's preview here. Through April 19. www.rowhousecinema.com

A QUIET PLACE. A few minutes into A Quiet Place, I stopped thinking of John Krasinski as "that goofy guy from The Office" and started thinking of him as "that man who's going to get his entire family killed if he coughs." Krasinski, who also co-wrote and directed this quiet horror film, stars alongside Emily Blunt, as they try to protect themselves and their children from blind monsters who hunt based on sound. The family lives alone on a farm in an unknown time sometime in the future; they walk barefoot on paths of sand to muffle their footsteps and communicate primarily in sign language. The acting is spot on, and a heartbreaking scene within the first few minutes sets the stage for what's to come. Prepare to notice every sniffle and crinkle of a popcorn bag around you for two hours because the silence is intense. (Lisa Cunningham)

RAMPAGE. A primate expert (Dwayne Johnson) has a bond with a gorilla. But after a genetic experiment goes awry and the animal grows super-sized and violent, the relationship gets complicated. Brad Peyton directs this comic actioner. Starts Fri., April 13

TRUTH OR DARE. A round of truth or dare turns deadly in Jeff Wadlow's horror thriller, proving that this game is never as much fun as you think it's going to be. Starts Fri., April 13