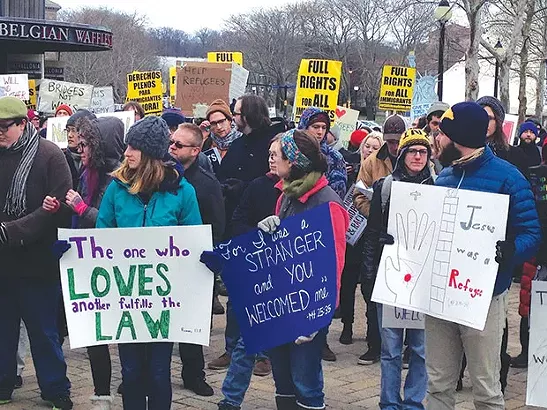 President Donald Trump issued three sweeping executive orders between Jan. 25 and 27 to overhaul the country's immigration and refugee policies. Most of these target larger cities with significant immigrant populations like Los Angeles, Chicago and Philadelphia. But some affect every corner of the country, including Pittsburgh.
According to data compiled by the Pennsylvania Immigration and Citizenship Coalition (PICC), Allegheny County has about 8,000 undocumented immigrants, which is less than 1 percent of the total county population. There are even fewer refugees; the county has taken in about 4,000 between 2003 to 2015. But even with such small numbers, some actions by Trump will immediately affect Pittsburghers.
JBM Legal immigration attorney Ashley Lively says Trump's new priorities for immigration enforcement will become official when his Department of Homeland Security secretary signs a memo to immigration officers.
When that occurs, undocumented immigrants in Pittsburgh can be detained if they "commit a chargeable criminal offense," even if charges aren't filed or immigrants aren't convicted. Marc Reisman, of Downtown's Gelman & Reisman Law Offices, says something as minor as "disorderly conduct" can be considered a criminal offense. Additionally, immigration officers now have the power to detain an individual, if they merely ascertain that an undocumented immigrant poses "a risk to public safety or national security."
Brenda Green works with refugees and immigrants at Jewish Family & Children's Services in Squirrel Hill. She's concerned that Trump's orders are attacking the right to due process.
"As Americans, we should be concerned with the suspension of due process," says Green. "The British did this to us before our revolution. This idea is central to this country's identity."
Trump's order will also publicize when the Allegheny County Jail doesn't honor an Immigration and Customs Enforcement detainer request, in an effort to "better inform the public." But Sundrop Carter of PICC says this is intended to pressure counties nationwide to heed detainer requests, even if those requests don't include criminal warrants.
Carter says more than half of the counties in Pennsylvania don't honor detainers without warrants due to liability concerns. In 2008, Ernesto Galarza, a U.S. citizen, spent three nights in Lehigh County jail on an ICE detainer. He sued Lehigh County and the federal government, and settled for a combined $145,000.
Carter realizes lawsuits are a strong factor in jails denying ICE detainer requests, but says Trump's pen can be just as powerful: "Just as quietly as they stopped holding detainees, many will quietly start to reinforce detainers. Only those municipalities with public pressure will stand up to it."
Allegheny County Jail currently denies ICE detainer requests without warrants. However, Allegheny's warden, Orlando Harper, says ICE officials can check inmates' immigration status through a database, and has already had "[ICE] staff come into the facility several times a week to review inmate's immigration status." In terms of the jail changing its policy, Harper says, "We will review the president's executive order with our law department to determine if changes should be made to our policies and procedures."
Trump's orders could also negatively impact the region's refugees. Trump has indefinitely banned all people from Syria, and has barred any entry into the U.S. for people from six other predominantly Muslim countries (Iran, Iraq, Libya, Somalia, Sudan and Yemen) for 90 days. Green says the Pittsburgh area has received only about 30 Syrian refugees since 2015, but has received more than 1,000 refugees from Iraq, Somalia and Sudan combined since 2003.
Green says many Iraqi refugees (about 700 call Pittsburgh home) are highly educated and were teachers, dentists, engineers and other professionals in Iraq. She says Iraqis and Syrians have assimilated very quickly to life in Pittsburgh and have taken jobs as housecleaners to provide for their children. Green says Trump's orders are sending them a conflicting message.
"They are raising their kids to be Americans, and what is happening right now is undermining that," says Green. She adds that JFCS currently has refugees in the pipeline from Colombia, Bhutan and West Africa, who have been held up because of Trump's order. (All refugees coming to America are on hold for four months.) Green says that for some refugees, another "four months is significant," because some refugee camps are overcrowded, lack food and have high rates of violence.
Trump's orders could have also have repercussions for certain Pittsburgh job sectors, including academia, tech and health care. Pittsburgh resident Katrina Finn, who attended a Jan. 28 rally against Trump's policies, works in health care and said the travel ban could hurt her industry since many doctors and technicians come from the banned countries.
Additionally, Jackie Martinez, of JBM Legal, says many of Trump's orders are likely to face litigation and could be struck down in court. For this reason, PICC's Carter says Trump is "using the bully pulpit to increase xenophobia."
"This is less about the policy, and more about signaling that he will uphold violence and the targeting of immigrant communities," says Carter. "The real power is not the content of the order, but really about empowering the anti-immigrant and anti-refugee community."
Carter says three anti-immigrant bills have already been introduced in Pennsylvania's legislature. One was co-sponsored by state representatives Daryl Metcalfe (R-Cranberry) and Dom Costa (D-Stanton Heights), although Costa later asked to be removed as a sponsor. It proposes that law enforcement and employees of colleges and universities assist in immigration enforcement.
But Pittsburgh is fighting back. Over the weekend, more than 300 rallied at the Pittsburgh International Airport, and more than 400 protested at Schenley Plaza against the orders. Omar Musso, a member of Pittsburgh's Muslim community, spoke to the crowd at Schenley on Jan. 28. He said Muslims, immigrants and refugees will stand united in the face of Trump's policies.
"Mr. Trump, by signing these orders, you are not protecting the people, you are hurting us," said Musso. "Any legislation intent on dividing us, for many, that is not American."