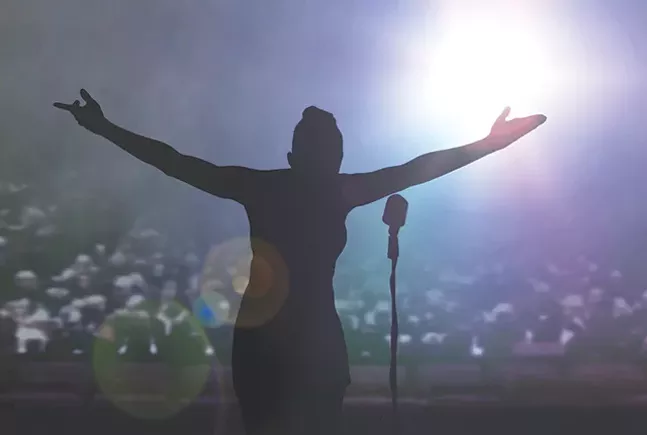 The Pittsburgh City Paper reached out to a dozen local venues asking, among other things, what they're doing to make the Pittsburgh comedy scene more inclusive. Thankfully, women leaders from the Arcade Comedy Theater and Steel City Improv Theater were happy to reply.

Responses have been edited and condensed for clarity.
Abby Fudor, creative director and marketing & management, Arcade Comedy Theater

It's hard to capture a perfect picture of our "performers" at Arcade, as we have such a mixture of shows that are produced by us, as well as also presented by us. One easy statistic for me to count was our Improv Program … I counted 49/110 improvisers being women, so about 45 percent of 13 improv teams, eight are coached by men, five by women. And while we have a larger number of faculty than any given term, our January Academy term had 10 classes, five taught by men, five by women.
It is important to us that not only are women represented as artists and community members but also seen in both artistic and management roles of leadership.
Liz Labacz, performer, teacher, and board member, Arcade Comedy Theater

When Arcade was pretty young, there were already starting to be stories breaking about abuses of power at other comedy theaters nationwide, ranging from harassment to assault, and in nearly all of them, the theaters had missed pretty glaring opportunities to protect their performers, and I never wanted that to be us. In a lot of those cases, the organizations were swearing to do better in the future, but we had the chance to learn from their mistakes rather than making our own.
I'm a policy wonk, so I believe in the power of clearly defined expectations and procedures; first, I think it's somewhat preventative in that it sends a message about what behavior isn't welcome in our house. Second, when a crisis does arrive, it provides a road map of how to address it. I think policies are important because, in absence of instructions, scared people default to doing nothing. I'm proud that our policy leaves room for Arcade to still be a comedy theater and a social setting while setting up protections for women (and people in other protected classes) to get help if they're being harmed.
As for the larger question of why it's important to make comedy spaces that are safe for women and other people that don't fit the usual picture of a comedian, well, setting morality aside, it's because uniformity is boring, and boredom is anathema to comedy.
Kasey Daley, artistic director of Steel City Improv Theater (SCIT)

We have a harassment policy, which boils down to don't make anyone feel uncomfortable. The type of long-form improv that we teach is about focusing on your scene partner and building them up, so that seems to help with the general attitude.
The SCIT first started in 2010, and it personally took me almost three years to recognize with my own ingrained misogyny. For example, in our very early years, we had a teacher who I found out was harassing several women in the community. Instead of firing him on the spot (which would have ABSOLUTELY happened now), I had a heart to heart with him, spent time helping him, blah blah blah. He was later fired. And that wasn't an isolated incident. We had another teacher (no longer with the SCIT) who would take up my time with the "are women funny?" B.S. Then I put up with way too much (again with the ingrained misogyny), now I shut it down. I'm not only responsible for myself, but I'm responsible for the performers, and that's just not what we do here. There's now a zero tolerance policy; we just don't put up with it anymore. These guys are certainly still out there, but not at the SCIT. We've worked very hard to get this community to where it is today.
After that, I put some rules in place: Our house team committee must be at least 25 percent women, teachers and coaches cannot date current students – things like that. What I tried to do was zero in on possible abuses of power and get rid of them. We also have SCIT town hall meetings, and I make myself available to have casual chats with the performers here, especially the women. We also have a show called Lady Business that brings together the women of this community. We're stronger together.
At the SCIT, we punch up, focus on our scene partner and we listen. I think that these three tenants have made our community stronger, but it can always do better.