How much excitement is there surrounding the Feb. 3 special election for Pittsburgh City Council's District 2 seat? You could find one clue at a Jan. 15 Mount Washington community meeting and candidate forum.
The "candidate forum" portion of the event lasted less than 20 minutes: The four announced candidates each had five minutes to speak, and there were no questions. By contrast, residents quizzed employees of the city's Public Works department for nearly an hour -- all over the selection process for installing new streetlights.
Which isn't to say nobody cares about the upcoming election. But District 2, which encompasses Mount Washington and western neighborhoods like Sheraden and Elliot, has long had a low-key presence in city politics. The previous councilor, Dan Deasy, rarely mixed it up during council's often-heated public debates. And as Theresa Smith, one of the candidates to replace him, puts it, "This district has a lot to offer -- great views, a great busway, just for starters -- and can become an integral part of this city's growth. But to a certain extent, the west has been overlooked."
That may change in 2009, a year in which four council seats, and the mayor's office, are up for election.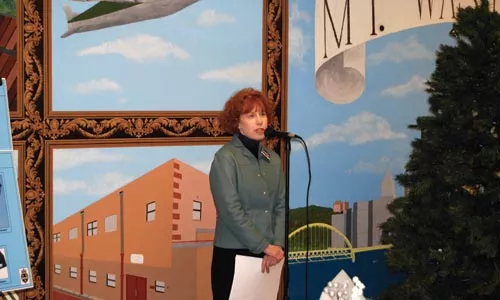 Deasy was elected to the state House last year, but his presence was felt during council votes, often coming down on the side of Mayor Luke Ravenstahl and his council allies. The District 2 special election to finish the final year of Deasy's term will be an early test of this year's political winds -- even though the winner will have to do it all again for the regular May 19 primary, which will be for a full four-year term.
In addition to Smith, of Westwood, three candidates are seeking the job this February: Democrat Georgia Blotzer, of Mount Washington; Democrat Brendan Schubert, of Westwood; and a lone Republican, Chris Metz, of Sheraden.
"I'm really not sure who's going to win out there," says Morton "Moe" Coleman, professor emeritus with the University of Pittsburgh Institute of Politics. Still, "it's an area that is very important to whoever becomes the next mayor."
For one thing, he notes, the western portion of the city could be up for grabs in the mayoral race: Ravenstahl is a North Sider, and two of his likely opponents -- city councilors Pat Dowd and Doug Shields -- represent eastern areas of the city. And, Coleman says, "Add to that the constant fight to lock up [a five-vote majority on council] and whoever wins this seat in the West End is going to have a pretty good amount of bargaining power."
Smith is the endorsed Democrat in the race, which -- especially in a special election where turnout is usually light -- makes her the likely frontrunner. A longtime community volunteer, she's the president of the Crafton Heights, Westwood, Ridgemont Community Council. She touts her experience working with the Weed & Seed community anti-drug program, as well as taking part in a successful fight to reopen the West End's police station, which was closed for budgetary reasons. Smith also worked to get Deasy elected to District 2 in the first place.
"There are some issues that need addressed in this district," she says -- crime, blight and other social ills. "But they are things that I've already been working on and can continue to work on without going back to the drawing board."
Smith has received financial support from local unions, but overall her contributions have lagged behind those of the other Democrats in the race: By the Jan. 19 reporting deadline, she'd earned only $3,170.
Georgia Blotzer, meanwhile, is in the opposite situation: She leads all the candidates in fundraising -- with just over $14,600 in cash, $4,000 of which is her own money. But she "didn't even attempt to secure the Democratic Party endorsement," Blotzer says. "I think it's clear that I am an independent Democrat and the Democratic Party machine is not behind me."
A retired special-education teacher, Blotzer points to her work on community issues like replacing badly deteriorated barriers on the McArdle Roadway as an example of her service. She faults a lack of leadership in the district for rising crime rates and a lack of development. "Everyone says the East End is so lucky with the development they're getting," she says. "But they weren't lucky. They had a vision and they worked toward it for 10 years." Blotzer pledges to offer such leadership in her own district.
Blotzer is also running as a reformer, touting campaign-contribution limits equal to those at the federal level. Her own largest supporters include Georgia Berner, a New Castle businesswoman who ran as a progressive Democrat in a 2006 Congressional campaign.
Brendan Schubert also touts his grassroots appeal. He's raised $9,085 in contributions, nearly a third of which are from contributions of $50 or less. But some of those small-dollar supporters include area legislators like state Sen. Wayne Fontana. And skeptics have pegged Schubert, a zoning administrator for the city of Pittsburgh, as Ravenstahl's early pick in the race.
"I've heard all of that stuff. I've heard that I'm the mayor's boy. I've heard I'm not the mayor's boy, I'm with the other side," Schubert says. "The fact is I have my own mind, an open mind. You have to go into these things that way. I'm not going to be a slam-dunk vote for anybody."
Schubert says his background in city planning gives him "experience that the other candidates simply don't have." He says he wants to work with the community to develop a strategic plan for District 2 that will show the way toward increased development in the neighborhoods as well as valid plans to deal with issues like crime and blighted properties. Schubert says he would like the city to help itself by reinvesting in commercial and residential real estate. It worked in places like Los Angeles, he says. "It's a lot like the idea of flipping houses and it's going to create a resource -- a strong real-estate market -- that will serve us 15, 20 years down the line."
As a Republican who has raised only $700, Chris Metz has the toughest road to travel to get elected. But Metz, the political director for the Republican Committee of Allegheny County, says the time is coming to crack the Democratic stronghold on city offices. "We're seeing signs that city residents are opening up to change. They're tired of business as usual."
Metz says the district is facing a familiar litany of problems: rising crime and the erosion of small business districts in places like Elliot and Sheraden. "We need to make sure we get enough cops on the streets," he says, and "small business owners, they need a voice on council who will fight for them and help them stay open."

For all the implications of this race for the city as a whole, the one thing all the candidates have in common is an insistence that, as councilors, they will vote as independents, and according to the needs of their district. Asked about how they would maintain their independence on council, the three Democratic candidates all pointed to Dowd -- who has been a sometimes-maddening swing vote on council -- as an example.
"I'm approaching this as an opportunity to work in the best interest of the community," says Smith. "If playing politics -- not something illegal or unethical -- means getting something done for my community, then I'll play politics."
"You have to play nice and you have to work with people," Blotzer echoes. "But you also need to be tenacious and not quit when it comes to the best interest of the city and your district."
As for Metz, he says, "The relationship between the mayor and the city council does seem a little strained at times." But like the other candidates, he says the district should be taken on its own terms. "When people think of this district, they think of Mount Washington and Grandview Avenue. Everything else is just an afterthought. That needs to change."
Editor's Note: The name of Allegheny County Counilor Jim Ellenbogen was removed from an earlier online version of this story. Ellenbogen was listed as a contributor to candidate Brendan Schubert. While Ellenbogen was listed as a contributor on Schubert's Jan. 23 campaign fianance report, the candidate has since said that was done so in error and Ellenbogen did not contribute to his campaign.