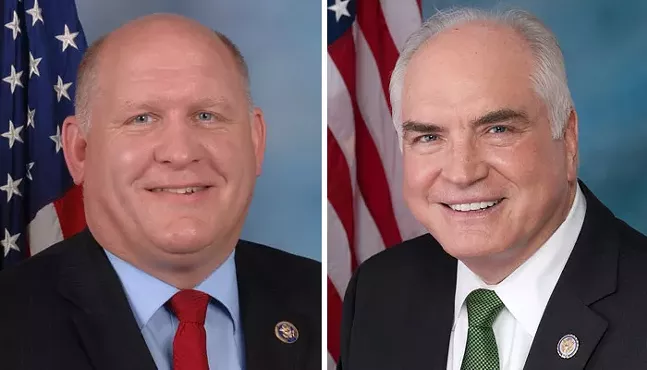 Ever since a
whistleblower complaint
was released that accuses President Donald Trump of asking the Ukraine government to investigate Joe Biden, one of his political rivals, and the subsequent
start of an impeachment inquiry into Trump
, the responses from Republicans have been defensive and, at times, illogical.
Shortly after the whistleblower complaint, several Republican U.S. Senators from across the country told local press
they didn't read it
and couldn't comment extensively. The complaint is nine pages long.
Other Republicans
claimed the Democrats are overreaching
.
In a story published today by the
Altoona Mirror
, U.S. Rep. Glenn "G.T." Thompson (R-Centre) made an ahistorical statement on the matter. The congressman, who represents Armstrong, Indiana, and parts of Butler counties, in addition to several central Pennsylvania counties, called impeachment a "socialist idea."
From the
Mirror
:
"Rep. Glenn 'GT' Thompson, R-15th District, didn't address the content of the inquiry or of Trump's phone call. In a brief statement, he named impeachment (alongside Supreme Court term limits) as a 'socialist idea.'"
"Rep. Glenn "GT" Thompson, R-15th District, didn't address the content of the inquiry or of Trump's phone call. In a brief statement, he named impeachment as a "socialist idea."" https://t.co/klx03rlQDU

— J.J. Abbott (@jjabbott) September 29, 2019
The impeachment process was created by the framers of the U.S. Constitution and written into Article II, Section 4. After a few days of debate about what should be considered an impeachable defense, framers like James Madison and George Mason settled on allowing impeachment for "treason, bribery and other high crimes and misdemeanors."
The U.S. Constitution doesn't explicitly mention capitalism or socialism.
Ironically, some conservative publications like the
National Review
and
The Washington Examiner
have published articles arguing that the U.S. Constitution is actually antithetical to socialism.
Thompson's argument that term limits for Supreme Court justices are "socialist ideas" also conflicts with, as news site
Vox
points out, that every single democracy in the world other than the U.S. doesn't guarantee lifetime appointments to their supreme courts. Additionally, many of those democracies modeled parts of their constitutions after the U.S. version.
Fellow Republican congressman Mike Kelly (R-Butler), who represents parts of Butler County and other Northwestern Pennsylvania counties, also claimed the impeachment inquiry was tied to "socialist" policies of Democrats.
Socialist Dems haven't accepted that Americans chose @realDonaldTrump in Nov. 2016, so it's no surprise @SpeakerPelosi announced impeachment w/o evidence to back their allegations. Text of convo w/ Ukraine president shows this is another "crying wolf" moment for @HouseDemocrats!

— Rep. Mike Kelly (@MikeKellyPA) September 25, 2019
According to a recent
CBS News poll
, 55 percent of Americans support the decision to open an impeachment inquiry into Trump, while 45 percent disapprove of opening the inquiry.
But impeachment isn't just an idea currently being floated by Democrats.
State Rep.
Daryl Metcalfe
(R-Cranberry), arguably the state's most conservative legislator, has led a push to
try to impeach Pittsburgh Mayor Bill Peduto
over the mayor's support of city gun-reform laws. On Sept. 8, Metcalfe wrote on Facebook, criticizing presidential candidate Bernie Sanders and claiming the Democratic Party is trying to "advance their socialism."