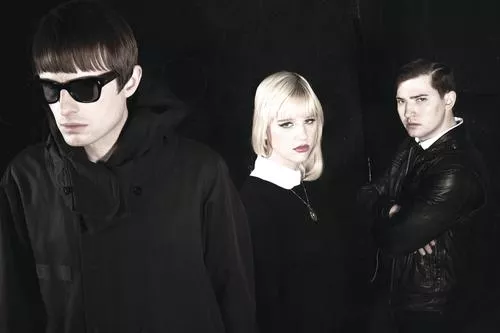 Punk rock has always been a young man's game. Maybe it's the speed of the music, or the anger dulls with age; maybe it's simply that guys in their 30s and beyond just don't feel as alienated, oppressed and altogether anti-establishment as they did at 18.
Sure, we've had the Bad Religions and Rancids of the world, but the vast majority of punk-rock timelines sputter to a halt well before the audiences could be their children -- or awkwardly march on into oblivion. (Sum 41: still around!)
But there is another option, and Wes Eisold found it.
It's not complex, really: The ex-screamer for hardcore bands Some Girls, Give Up the Ghost and American Nightmare up and left punk rock for greener pastures. His destination: pop music.
That might seem like an odd choice. Pop is, after all, the fertile domain of teen-agers and, at first listen, drastically different than hardcore. But maybe the genres aren't so disparate, as they occupy the extremes of the emotional spectrum, just like -- you guessed it -- teen-agers do. Like any genre, pop is a wide-open world -- and Eisold hides in the cracks of its darkest, seediest corner with his new band, Cold Cave.
Around 2007, Eisold's second major hardcore vehicle, the endlessly thrashy Some Girls, had dissolved. He was without a band for the first time in years.
"I didn't really want to be in a band. I didn't want to tour. I just wanted to try writing for awhile," says Eisold.
On the last Some Girls tour, Eisold says, he "asked friends if they had any equipment lying around that I could use." By the time the band had ended, he'd collected some delay pedals and a Casio SK-1 sampling keyboard. Before long, "I started to get antsy," he says, and he began assembling noisy, messy electronic collages with his vocals -- no longer a scream, but a deep, cold bellow -- hovering on top.
"I wasn't telling people initially. I wanted to have some anonymity," Eisold explains. "I didn't want Cold Cave to come with 'Here's this hardcore guy's new band.' I didn't want it to have any ties or preconceived notions."
Cold Cave tracks did surface, though, in assorted 7- and 12-inch records and cassettes -- not exactly the formats of mass consumption. That may have been the point. By the time Eisold released Love Comes Close, his first proper Cold Cave LP, on heavyweight indie label Matador in 2009, the swell of Internet buzz around his new act was noisier than the fuzzy synth lines that crowded his songs.
With Love Comes Close, Eisold had created music that invokes the name of his new band -- ice-cold, dark-as-night, minimalist synth pop that sounded scarily isolated. It drew as much from New Order and Depeche Mode's electronic shiver as it did from The Cure and Joy Division's emotional one.
Love Comes Close was a critical hit, and a modest indie success, bolstered by heavy touring and the continued release of more compilations and cassettes. (Eisold rounded out a full band in 2009; the lineup's core is Eisold and Dominic Fernow, best known as the harsh noise artist Prurient, with occasional collaborators like Jennifer Clavin and Caralee McElroy.)
The bleak aesthetic didn't hurt either. "The image of Cold Cave is just as important [as], if not more important than, the music," Eisold says. "We initially judge everything by visual stimulants." This translates to, no surprise, a lot of black clothes and unsmiling faces.
This year's follow-up, Cherish the Light Years, steps out even further from Eisold's hardcore past; it's more pop in almost every way. Those minimalist beats? All beefed up with metallic crunch and shine, and they don't let up. From the rat-tat-tat percussion of opener "The Great Pan Is Dead" to the neon synth blasts of "Underworld USA," the record maintains its sullen cool while polishing the dirty-sex grime to a bold, intense glow.
Eisold states: "If you play in a hardcore band, there's this unwritten rule that you can't do anything different." But it's a rule he's content to break: "Alchemy and You" even features a trumpet. Cold Cave may have once inspired "the dance of the dead," as one blog wrote, but Eisold's newest crop of pop is somehow oddly and frenetically exuberant. Still, it's music that would give 96.1 KISS-FM DJs gruesome nightmares.
For a growing number of ex-hardcore musicians wading into pop, there's the rub: to make pop music sound as loud and arresting as any punk explosion. Johnny Whitney was once the inhuman shriek of The Blood Brothers. Today, he leads danceable, weirdo rave-ups with Jaguar Love. Hardcore band Poison the Well's Derek Miller now sets eardrums on fire with Sleigh Bells.
Eisold maintains that Cold Cave is a pop project because he had a keyboard at hand. "I never thought I would be in a band like this. If I'd played guitar, I would've started a guitar band," he says.
But under the coyness, he's embraced his fate. Ten year ago, would Eisold have believed he'd front a pop band?
"If you had some insight that I didn't have, I would've heard you out," he says. "And there would have been a part of me that hoped it was true."
COLD CAVE with PASSENGERS, BOY SCOUT OF AMERICA. 9 p.m. Sun., May 22. Brillobox, 4104 Penn Ave., Bloomfield. $10. 412-621-4900 or www.brillobox.net