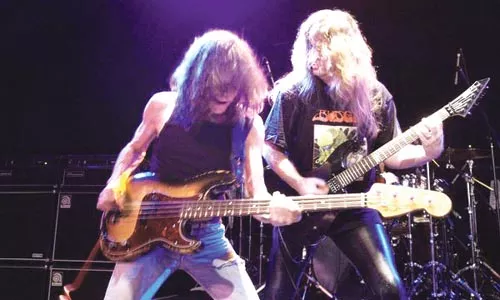 Budgie wasn't the first metal band, nor the most famous. While not a household name, however, the Welsh proto-metal outfit is certainly influential, inspiring numerous covers by better-known bands through the years, including Metallica's famous take on "Breadfan."
There's something to be said for the fact that this band with the parakeet aesthetic and goofy song titles -- which started out when Ozzy was biting the heads off bats -- is still playing (though the three-piece now consists of bassist/singer Burke Shelley and a pair of more recent acquisitions). Much as was the case a few years ago when Blue Cheer toured (prior to Dickey Peterson's untimely passing), Budgie's current U.S. tour gives old-school metalheads a chance to check out one of the innovators in a relatively intimate space for less money than an Ozzfest pass will run you.
Original guitarist Tony Bourge left the band in 1978, and drummer Ray Phillips hasn't been involved for even longer. That leaves only Shelley, whose velvety voice is often likened to Geddy Lee's but could also draw comparisons to Free-era Paul Rodgers. In 2006, the current lineup released a full-length called You're All Living in Cuckooland -- and the silly song titles, like "I'm Compressing the Comb on a Cockerel's Head," remain.
The band's limited U.S. tour -- originally scheduled for last month but postponed on account of the Icelandic volcano eruption -- brings it to Diesel on Thu., May 27.
As of Monday, May 24, Thursday's Budgie show at Diesel has been cancelled. See our FFW blog for more information.