click to enlarge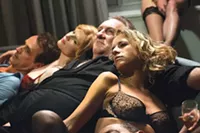 WELCOME TO NEW YORK. This plucked-from-the-headlines drama from Abel Ferrara is based on the infamous 2011 arrest of (and subsequent media circus and court case surrounding) former International Monetary Fund head Dominique Strauss-Kahn, who was accused of sexually assaulting a female worker at a fancy NYC hotel. Here, DSK is known as "Devereaux," and played with lumbering Gallic detachment by an obese Gerard Depardieu.
The film is divided into three sections. In the first, Devereaux arrives in New York and, at a posh hotel, indulges his various carnal appetites (drugs, food, prostitutes); it all has the feel of a perfunctory orgy of excess, the thrill of which has become rote. Then, he encounters the maid, though we never see or learn the exact nature of the assault. The second section recounts in methodical detail Devereaux's arrest and booking, in which this master of the universe endures the humiliations of being booked (including a strip search). Summoned from France is his take-charge, checkbook-toting wife (Jacqueline Bisset, looking as fabulous as Depardieu looks dreadful). In the third, mostly talky section, the pair exerts political and financial influence to squash the charges, while trying to come to personal terms with the crisis. It's a weird exercise in the philosophy of entitlement, as husband and wife pursue different justifications for minimizing the bomb that has exploded their professional and personal relationships.
This is sure to be a polarizing film with something to annoy everyone. (Ferrara himself has publicly denounced this theatrical version, which was trimmed down.) Some will be bored by the slim story, or the dorm-room philosophizing; other might be put off by explicit scenes of debauchery. The film's shifts in tone, from spare to explicative, from barbed to pedantic, are also tricky. On one hand, it's a fascinating attempt to dissect power and privilege through the lens of a real and ugly incident, and to probe the soul of an unrepentant taker. But its uneven approach ultimately delivers a muddled psychodrama. In English, and French, with subtitles.