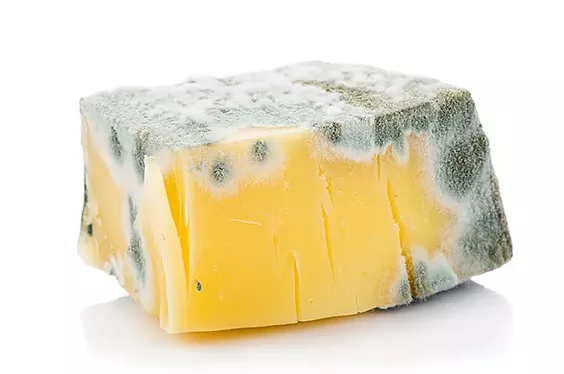 Discussion at a recent meeting of the Gateway School Board, which serves Monroeville and Pitcairn, was dominated by what board president Chad Stubenbort dubbed "cheesegate." The Pittsburgh Post-Gazette reports that a whistleblower in the district's food-services department shared with the board pictures allegedly taken recently in cafeteria coolers. One showed cheese growing blue mold with a use-by date of 2011, and others showed packages of ground meat with use-by dates of 2012 and 2014. Stubenbort told the board that the Allegheny County Health Department has since inspected and approved the freezers. He also read a report from the district's food services director. It said cafeteria workers follow a "two-year rollover in regard to the use and storage of meat" and that they also inspect the color and smell of a product before cooking it, and discard any suspect items. Moldy cheese is still usable, as per U.S. Department of Agriculture guidelines, as long as cafeteria workers cut off the mold and all surrounding areas within an inch, according to the report. Additionally, cooks use cheese that once sported mold only in recipes where it is heated, in a just-in-case effort to kill off any remaining bacteria. The report was apparently meant to be reassuring.

A 14-year-old student at Woodland Hills High School, east of Pittsburgh, was apparently sick of the bullying he endured, so he hid a recording device to document the verbal abuse and bring his tormentor to the attention of officials. "I'm going to fucking punch you in the face," the voice on the boy's recording said, "man to man, bro." The speaker was apparently principal Kevin Murray, who is now on paid administrative leave. An attorney for the boy's family told KDKA that Murray often berated and intimidated him. In addition to threatening to "knock [his] fucking teeth down [his] throat," Murray also allegedly gloated to the boy, "I will punch you in the face and when we go down to court, it's your word against mine and mine wins every time," which might be the case this time.
Police say that Breanne N. Schaum, who was in downtown Charleroi to appear at the Washington County Courthouse on charges of stealing a cell phone from an acquaintance, urinated in front of a watch-repair shop before her hearing. The Observer-Reporter newspaper reports that Schaum, 32, was charged with indecent exposure, criminal mischief and disorderly conduct for her alleged soiling of the entrance mat of About Time.

In more bad news for entranceways, a man was arrested for defecating on the front porch of the Men of the Mountain Gun Club, a hunting club in Metal Township, Franklin County. According to the Chambersburg newspaper Public Opinion, police charged a suspect with disorderly conduct but have not released his name.

"We've got seven hanging bodies!" said auctioneer Fred Peters. "Buy and take all seven! Hang them up!" The scene, described on the Pittsburgh news website The Incline, was the liquidation sale of Terror Town, a defunct haunted house that once lurked in the basement beneath the Cruze Bar/Club Zoo complex in the Strip District. The owners decided to close up after a water-main break and called in Peters' company to recoup some cash. The event attracted scare-house owners from as far as Florida to bid from an auction catalog that included "bat demon," "dragon prop," "mummy," "asst [assorted] skeletons," "jail cell," "rack w/ shackles," "spider hallway w/ strobe lights" and "asst guts." The seven hanging bodies sold for $90. An octagon-shaped cage went for $110. An "alien room" — including two replicas of the creature in the Alien movies, a short gray extraterrestrial, and a few hanging, brain-like organs — sold as a set for $375. An electric-chair prop went for $1,000. Buyers also picked up miscellaneous plastic guts and body parts for $5 to $10 a pile.