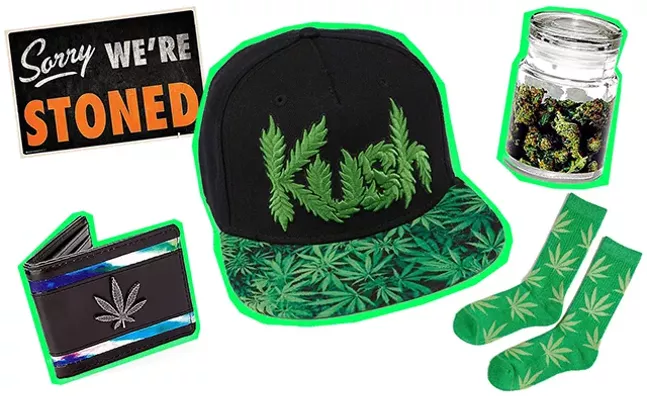 Be sure to check out Pittsburgh City Paper's marijuana issue, coming out tomorrow in print and online.

There's only so much you can write about when putting together a marijuana issue, especially when looking for a humorous angle, before you begin to sound like a bad '90s movie. That's when it hit me; I'll write about '90s pot movies, but the topic was already taken. So, I arrived at the next logical conclusion: Spencer's.
If you were a one-of-a-kind, 15-year-old, suburban badass of the '90s who needed to get your parents off your back, you headed to Spencer's for the holy grail of teenage rebellion, the double middle finger to the establishment: the marijuana leaf, glow-in-the-dark, blacklight poster, preferably in felt.
For those of you who don't know, "Spencer Gifts LLC, doing business as Spencer's, is a North American mall retailer with over 600 stores in the United States, Canada and Puerto Rico. Their stores specialize in novelty and gag gifts, and also sell clothing, band merchandise, sex toys, room decor, collectible figures, fashion and body jewelry, fantasy and horror items," according to its Wikipedia entry.
Spencer's dealt in every teenage vice imaginable. Need to see as much boob as legally allowed outside of an actual porno (very hard to come by in the '90s)? Spencer's rolodex of posters featuring bikini babes draped all over Countachs and Testarossas was your go-to. Sunday mass lacking in the scatological humor you require? Sneak into Spencer's raunchy greeting card selection rife with ageist, sexist, and poop-riddled jokes. Looking to impress your upper-crust pals? Get yourself a lava lamp. Spencer's had them in spades. Every color.
So, while weed culture has changed significantly since the '90s, has Spencer's — the Willy Loman of weed tchotchkes — representation of it?
That's a hard no. If anything, Spencer's went even harder on the "slackers getting stoned on weed" trope. And God bless them for it.
When you search "marijuana" on their site you get 103 results. When you search "weed" you get 253 results. Granted, there is some product overlap, but that is a lot of marijuana novelty shirts, shorts, swimsuits, hats, storage glasses, ash trays, and lube. Spencer's has "hemp flavored" lube for everyone who loves the taste/smell of hemp.
Outside of the weed offerings, Spencer's has got everything you need to be the most annoying person at any party. Their gag gifts category offers fart spray, a squeaking rubber chicken, a hundred items shaped like penises, a do-it-yourself prostate exam, and an inflatable walker.
Spencer's is like a museum of the future you'd see in movies like Demolition Man, showcasing the stupidity of the people of our time. So if you'd like to visit the comedy hellscapes of the '80s, '90s, and, unfortunately, today, drop by your local mall, and there's sure to be a location festering next to an Auntie Anne's. Just follow its sweet, sweet glow.