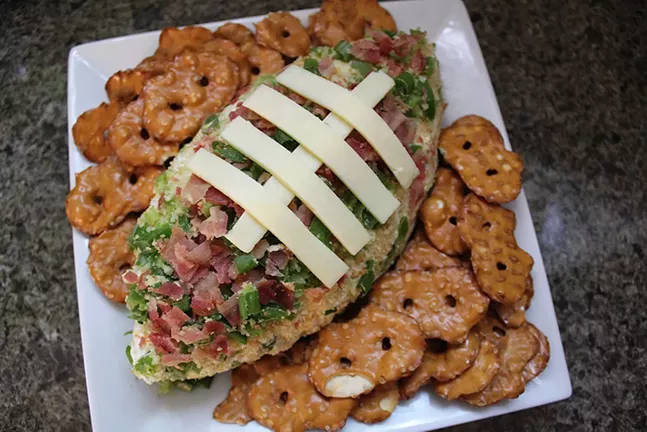 Jalapeño Popper Football Cheese Ball
"How can I describe my emotions at this catastrophe, or how delineate the wretch whom with such infinite pains and care I had endeavored to form?" I pondered these words, spoken by Dr. Victor Frankenstein upon seeing his monster in Mary Shelley's iconic work, as I looked down on my Jalapeño Popper Football Cheese Ball. What affront to nature — crudely formed from cheeses both cream and shredded, as well as hot peppers, bacon, and green onion – had I unleashed upon the world? And yet, even as I shrank from my cursed creation, that which I bore with my own selfish hands, it did tempt me. What delicious wonders awaited within its hideous form? Indeed, there are many, and they go really well with pretzel thins.
Walking Tacos, aka Frito Pie, aka Hot Hand Chili
When I first saw Walking Tacos on Pinterest, I thought, "What is this sh*tshow?" But my coworkers were quick to offer that Walking Tacos — or, as I like to call them, Hot Hand Chili — are in fact awesome and not a sh*tshow. I was pleased to find that they're also easy to make. But because I can't cook without messing something up, I realized that I forgot to buy one important ingredient — the ground beef. Undeterred, I threw in a can of chili beans along with the required kidney beans, unintentionally making vegetarian Walking Tacos. While it's not pretty to look at, the result — a fun-sized bag of Aldi-brand nacho chips filled with chili, shredded cheese, chopped iceberg lettuce, and a dollop of sour cream — did not disappoint. To achieve the full "walking" effect, I forked it into my face while standing out on my patio, happily eating and sweating under the midday sun.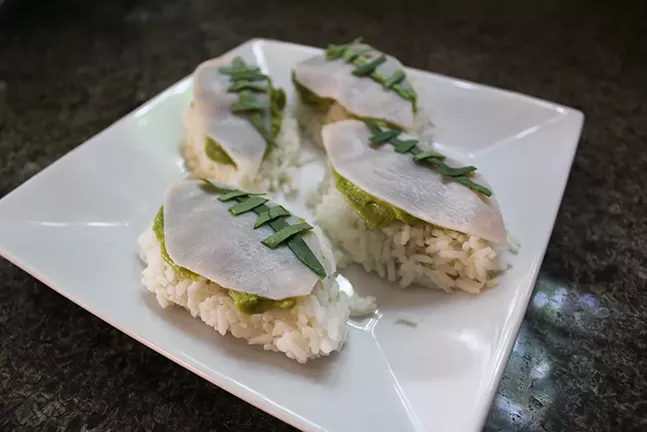 Turkey and Avocado Onigiri Footballs
This recipe made me question my life choices. "Maybe I should learn a trade," I thought as I struggled to knead the sticky rice into vaguely football-shaped pieces. "Maybe I should join the Peace Corps," I sighed as I cut little oblongs out of the pale, slimy turkey slices. The appeal of the Turkey and Avocado Onigiri Football escapes me. The combination of deli meat and difficult, time-consuming preparation created a final product that's best described as depressing. Plus, there's nothing even remotely "onigiri" about them. For example, why use the world's most boring guacamole for the spread when there's the more thematically appropriate choice of wasabi mayo? And if you're wondering about those grass clippings on the edges, I had trouble finding nori, the dried seaweed needed for the laces, and had to substitute bits of spinach. My husband and my housemate, however, both proclaimed the onigiri as "not bad" and "surprisingly delicious," so maybe appearances are deceiving.