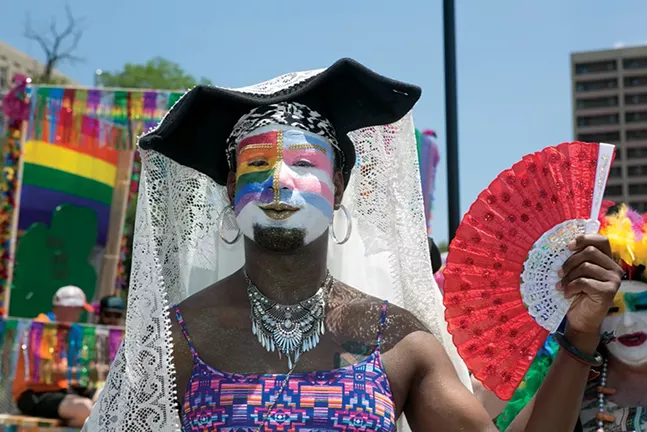 Shaquilla O'Neal

What still needs to be done in Pittsburgh?

In my personal opinion, more needs to be done for minorities in this city. Pittsburgh does not attract black professionals, and those who grew up here tend to leave as soon as they finish college. As a result, the black population has significantly higher rates of poverty than any other racial group in this city and faces more discrimination than in other cities in this region. For all the claims of Pittsburgh being the "Most Livable," it's hard to see it if you're black. I wish I had an easy answer to this but I don't, and it's honestly one of the reasons why I myself plan on leaving Pittsburgh once I finish school in early 2020.
What have you been doing?

Most of my direct activism is in the LGBT community, namely fundraising for organizations such as Persad, Proud Haven, the Pittsburgh Equality Center, as well as Planned Parenthood. As a gay person, these organizations are all near to my heart. And as a black person, I hope to set an example of with my activism and not feeling obligated to limit my actions to just "black" spaces.
What plans do you have next?

The Sisters' goal for the new year is to focus fundraising efforts towards Persad, as well as expanding our reach and connections in Pittsburgh/Western Pennsylvania.

How can people help?

All the organizations I listed take donations. I personally follow the philosophy of "Money talks and bullshit walks," and non-profit organizations need funding to keep operating. If someone wants to help, that'd be a good start. And if they want to lend a more direct hand in helping the Sisters' mission, we're always accepting new members!
•
•
•
•
•
•
•
•
•
•
•
•
•
•
•
•
•
•
•
•
• •
•
•
• •
• •
• •
• •
• •
Monica Ruiz

What still needs to be done in Pittsburgh in terms of immigration?

Well, as far as the city of Pittsburgh goes, besides all the racism and anti-immigrant sentiment that runs through the veins of the horrible people that plague the city, I would say there should be a larger [Allegheny County] and even state effort to create policies that are pro-immigrant.
What have you been doing?

I have been advocating for not arming the police at Pittsburgh Public Schools. I have also been working on creating a policing policy with Pennsylvania State Police based on recent activity they have had here, after a ProPublica article outlined the horrible treatment of immigrants. I have also been working on organizing against the Public Charge rule, [which is proposed to deny legal immigrants permanent residency if they receive any public benefits].
What plans do you have next?

Our door knocking campaign, where we are going to educate folks about their immigrant neighbors.
How can people help?

Volunteer! Go on our website and you can register there, also sign up for our newsletter, become an amigo on our website.
• • • • • • • • • • • • • • • • • • • • • • • • • • • • • • • • • •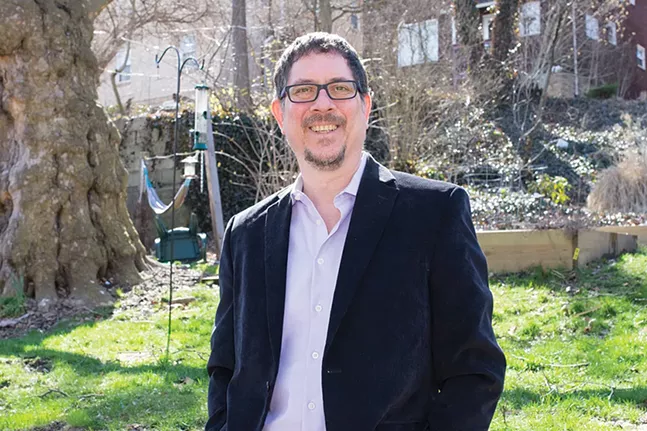 Patrick Nightingale

What still needs to be done in Pittsburgh in terms of marijuana?

We need to get the Pittsburgh Police Department to use the Decriminalization Ordinance. While it did see some use in 2017 (200 out of a total 900 police encounters over a "small amount" of cannabis), the majority of the time the individual is still being charged with a misdemeanor. This means the individual must get fingerprinted and must appear [in court].
What have you been doing?

NORML is working with state Rep. Ed Gainey's office to schedule a local "town hall" on the issue of full marijuana legalization. We are also working with his office to plan panel hearings in Harrisburg. We will be lobbying state Rep. Barry Jozwiak to eliminate the "escalation" to a misdemeanor that is part of his decriminalization bill - HB 928.


The bill will be re-introduced in January. In present form it calls for a summary offense for first two offenses and then escalates to a misdemeanor for a third and subsequent.
I have been speaking publicly about Pennsylvania's medical marijuana law, to try and educate patients and the general public. I am working with a magistrate judge in Washington County to educate law enforcement in his jurisdiction.

What plans do you have next?

We will also be scheduling another rally in Harrisburg to coincide with the re-introduction of the decriminalization bills and state Rep. Jake Wheatley's [recreational marijuana] bill. We also need to address the DUI issue for medical patients.
How can people help?

Follow Pittsburgh NORML on Facebook, Instagram and Twitter. Most importantly — CALL THEIR REPS AND SENATORS.
• • • • • • • • • • • • • • • • • • • • • • • • • • • • • • • • • •
Maria Montano
Trans rights activist
What still needs to be done in Pittsburgh?

Lots of folks look to Pittsburgh as being the "most livable city" and see all the "best of" lists that we get on and think that as a city, we are doing a great job at meeting the challenges we face. But we have so much work to do in order to make it a reality.


From economic inequality to racial justice to criminal justice reform and LGBTQIA rights, we have such a long way to go, and all of our struggles are so deeply connected that we must continue to work together to address the long term problems that affect all of our communities.
What have you been doing?
I've been involved with a variety of local community organizing groups like One Pennsylvania, Pittsburgh UNITED, and the local chapter of the ACLU to work on a variety of issues facing our city. Over the past several weeks, I've been organizing around the attack on the rights of the Transgender community by the Trump administration.
What plans do you have next?

Voting is the first step. But we need to make sure communities get organized to hold our elected leaders accountable. It's important that our elected officials use the tools and the power they have to protect marginalized communities and they need to hear from us on a regular basis about what needs to be done.


Pennsylvania is still one of [more than 30] states in the country that doesn't have a form of non-discrimination policy in place that protects the LGBTQIA community and currently, we just have a handful of city and county ordinances in sort of a patch-work system, but that isn't enough. Unless you have a union-contract that protects you, there really is no way to protect yourself at work from discrimination for simply existing as a member of the community. We need to continue to push hard for statewide non-discrimination policy that protects us at work and in public life.
How can people help?
Get involved! There are so many great organizations that are doing incredible work across the city to address the problems we face. And they are always looking for new folks to get active in talking to their friends, family, and neighbors about how we can make changes that lift up all of us. Find an issue that affects you or that you care about and connect with a local organizing group that is addressing the problem and see how you can get involved.
Contact your elected officials, as often as possible. From city council to the U.S. Senate, we should be more engaged and make our voices heard. Speak at local hearings, call your federal representatives, and march in the streets with folks demanding change. Now is the time to be visible and make ourselves heard.
• • • • • • • • • • • • • • • • • • • • • • • • • • • • • • • • • •
Arielle Cohen
Community organizer, member of IfNotNow and Pittsburgh DSA
What still needs to be done in Pittsburgh?

President Trump said that there should be guns in the temple and I think that's wrong. I think that we know that when guns are brought into our place of worship and our public schools … that it actually makes places that are meant to be safe for all less safe for many. I think that what we need to be doing instead is saying exactly that, that we need to divest from police departments and state sanctioned violence, and invest in our community directly.
Without getting into policy specifically, we know that our struggles are all deeply interconnected and we have to take sides. Neutrality helps the oppressor and Trump has made it clear that he is working toward building a white nationalist state.
What have you been doing in response to the current climate?

Right now what we're thinking about is that there's safety in solidarity. We as a community need to work together to make clear that Trump is not welcome here, white nationalist sentiment is not welcome here.
Publicly mourning was really powerful to me. I've sat Shiva many times in my life for many beloved people who've died, and being able to be publicly Jewish and feeling safe in public in solidarity with everyone that came out to support and protect us was really powerful.

How can people stay involved?

IfNotNow hosts Friday night Shabbats regularly and we're working on how we show up for the Jewish community and our broader community to invite people in.
We know that this didn't happen in a vacuum. This is not the first time we've seen violence in Pittsburgh. [Make] sure that you're involved in a community that shows up, joining organizations like IfNotNow, Casa San Jose, and DSA so that you are informed and showing up every time things like this happens.

How can people avoid burnout?

One thing that I have been saying every day since Trump came into office and had the opportunity to say at our vigil, is that we will take care of ourselves and each other as a form of resistance, pain will be channeled into our fight, and they will regret being the catalyst for our liberation. Voting is the minimum level of participation but it's not enough. We need to know our neighbors and our friends and be willing to stand up and fight for one another when we're attacked.
We really need to be really human with each other, because Trump's administration is attempting to dehumanize us.
• • • • • • • • • • • • • • • • • • • • • • • • • • • • • • • • • •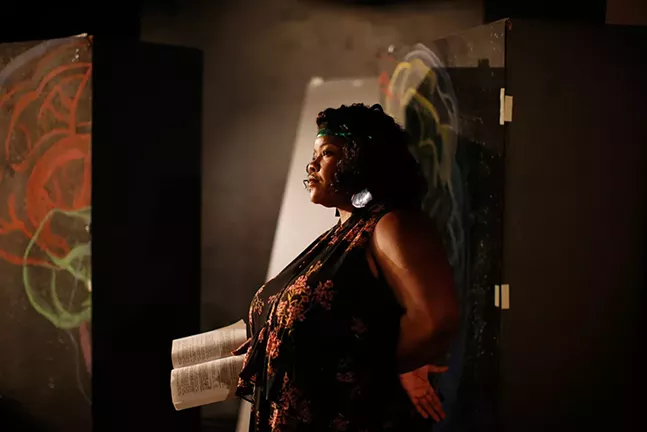 Vanessa German
What I think *still* needs to be done it pittsburgh:

Pittsburgh (& America) must continue to wake up to & reckon with the horrors of white supremacy & its brutal & enduring legacies of terrorism, hate, & systemic cruelty upon the lives, bodies, spirits & futures of Indigenous, Black, Brown, Queer, _______,________, human beings & the natural world. White identifying Pittsburghers must reckon with this & take on this dismantling within their hearts, families, & communities.
Pittsburghers of Color, Pittsburghers at the margins, Pittsburghers who live in the "other" Pittsburgh, must know that they are Whole, Valuable & Worthy. It can be despairing to endure the silence, indifference, and hypocrisy of white supremacy. We must know that compassion, empathy & justice belong to us & our loved ones, also. & that to be denied this, to be made invisible from these living veins of humanity is an intentional & often shrug-able cruelty. Find places where you are loved & seen, protected & engaged. Run for office. Say your truth out-loud. Refuse invisibility. Own & activate your human citizenship with your own agency.


What have I been doing? I've been doing this.

What plans do I have next: to love the children in my neighborhood.to speak to their power & prowess. i plan to continue to make art that tows in an intimate & soulful reckoning with white supremacy. i plan to continue to write poems, to help myself & others, to honor, to grieve & see & hold the lives of the living, & slaughtered Black & Brown &________ children, Trans Women, fathers, sisters,_______ , Mothers, prisoners, as important, sacred & deserving of love & justice.
What can people do:

intentionally share something that you love deeply, at least once a month, say so out-loud.
White Pittsburghers can make yard signs that denounce white-supremacy, & or, acknowledge it as terrorism. They can also begin weekly community gatherings to actively learn its faces & to craft & activate plans to undo it, and its damage. Pittsburghers can offer repair to its indigenous citizens. —have a monthly poet laureate from any pps school. — prioritize affordable housing for single mothers. I could go on.
________________
* Some interviews have been edited and condensed for length and clarity.
* Compiled by Lisa Cunningham, Ryan Deto, Hannah Lynn, Jordan Snowden, and Maggie Weaver