Stoners must develop fast-food menus, because chains are always introducing new and improved Monster Foods. You know, those dishes that combine two foods into a shape or flavor you would only ever dream up after downing that sweet weed potion. Think: Taco Bell's Waffle Breakfast Taco, Burger King's Mac n' Cheetos, KFC's Double Down sandwich.
GetGo Cafe and Market is in on the action, recently advertising a sandwich called The General. It features General Tso's chicken and comes with the tagline "It's Tso good!" (The official description says the sandwich is comprised of chicken tenders slathered in General Tso's sauce and sriracha, topped with egg rolls and served on a sesame-seed roll.) As soon as City Paper's staff learned of its existence, there was no choice but to make use of the investigative journalism skills for which we're known.
A day after the annual Best Of Pittsburgh party, the editorial staffers sampled The General to assess this culinary experiment on taste, appearance, and flavor accuracy. Results were mixed, ranging from "that's not the worst thing I've ever had" to "I will watch you eat this, but I will never eat it."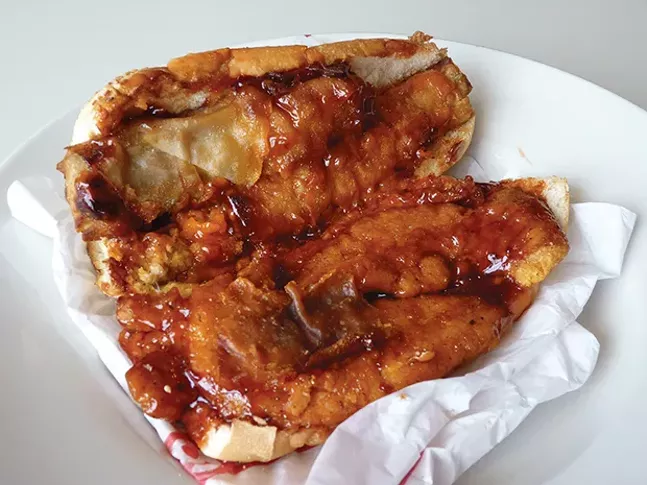 The tenders are likely the same ones used on every other GetGo chicken sandwich, only these are doused in something they are calling General Tso's sauce. Doesn't taste like it. The taste is too harsh, thanks to generic tenders heavily seasoned with pepper being combined with sriracha sauce. If the skin on the tender was ever crispy, it was long before it reached the CP offices.
The tenders could best be described as wet and soft. The sauce could best be described as spicy syrup. It doesn't taste like anything specific, but tastes enough like something to taste bad.
The picture in the ad shows two perfectly round, crispy egg rolls sitting atop the chicken, uncrushed by the bread. In reality, the egg rolls are flattened, but that's not their fault. How could they possibly retain crispiness with the sh*t hand of cards?
The bread holds up well with its heavy load, but it's not enough to save the sandwich. During our tasting, staffers agreed: It's not "Tso good," but it is "Tsokay."
Even to the hungriest stoner, this sandwich would be a disappointment because the appetizing image doesn't correlate with the taste. You think that you want something that tastes vaguely like Panda Express. You are fed a piece of sriracha-nothing instead.
Despite generally bad results, food chains should continue to make weirder, even more grotesque creations. The trash heart and stomach want what they want.