You can tell a lot about a person by the music they listen to, though it's probably not fair to judge the content of one's soul simply by a playlist. After all, who hasn't downloaded "Livin' la Vida Loca" because it kept running through one's brain at 2 a.m.? But, fair or not, we asked six notable Pittsburghers to put their music players on random and let us write down the first five songs that came up.
Josh Harrison: Third baseman for the Pittsburgh Pirates.
Musical Perspective: "I love music. I mean, I got a range from rap to R&B, a lot of gospel. I got a few pop [songs] on there, too. I got a little bit of everything."
1. "Damn Liar" by Young Jeezy
2. "I Don't Like" by Kanye West
3. "Still Got Love 4 Ya" by Don Trip
4. "Novacane" by Frank Ocean
5. "Never Again" by Trey Songz
Joe Negri: Renowned jazz guitarist, Duquesne University adjunct professor and former co-star of Mr. Rogers' Neighborhood.
Musical Perspective: "I'm very disappointed with today's popular music. I'm very much into theatrical music, American songbook and standards."
1. "Angel Face" by Bill Evans and Jim Hall
2. "Barbados" by the Tommy Flanagan Trio
3. "Blame It on My Youth" by Nancy Wilson
4. "Pick Yourself Up" by Diane Krall
5. "I Never Knew" by Kenny Burrell
Cameron McLay: Pittsburgh Chief of Police.
Musical Perspective: "[This list is] the kind of thing I listen to when I exercise. Classic rock was the current music when I was growing up. In the car and when I'm home, I listen to classical music. I really love baroque."
1. "America" by Santana
2. "And You and I" by Yes
3. "Baba O'Riley" by The Who
4. "Canarios" by Gaspar Sanz
5. "Carolina in My Mind" by James Taylor
Ellen McLean: Allegheny County Port Authority CEO.
Musical Perspective: McLean is an avid runner and these are the songs she plays while running or at the gym.
1. "Son of a Preacher Man" by Tracy Chapman
2. "Thistle & Weeds" by Mumford and Sons
3. "Stronger" by Kanye West
4. "Waiting for Magic" by Ace of Base
5. "Rolling in the Deep" by Adele
Lawrence Brownlee: Singer with the Pittsburgh Opera.
Musical Perspective: "The thing I like about music is you can be affected by so many different sounds. Yes, I'm an opera singer, but I appreciate the artistry, and what people sacrifice and what they do as far as their musical journey."
1. "Danksagung an den Bach" by Franz Schubert
2. "Irimo" by El Gran Combo
3. "Celebrate the King" by Ricky Dillard
4. "Sweet Georgia Brown" by Take 6
5. "Lingus" by Snarky Puppy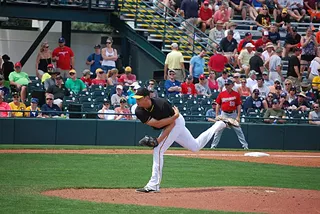 Jared Hughes: Relief pitcher for the Pittsburgh Pirates.
Musical Perspective: "I swear I listen to more metal."
1. "Apartment" by The Significance of Simon
2. "Dry Ice" by Green Day
3. "Take Me to Church" by Hozier
4. Westerns by Louis L'Amour ("Do audio books count?" asks Hughes.)
5. "A Wonder" by Citizen Cope