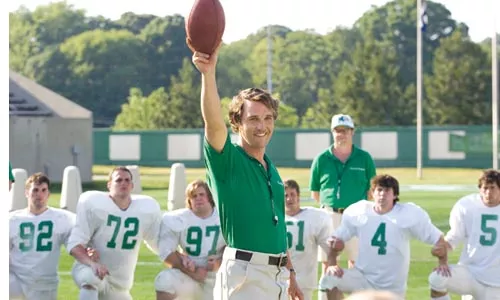 If you're a fan of inspirational sports melodramas, you'll likely enjoy this true story of Marshall University's college football program, forced to start from scratch in 1971, after pretty much the entire team perished in a plane crash. From its untoppable adversity right through to its pre-big game "heart and soul" speech, man-tears and slow-motion final goal, it's a familiar narrative.
We begin with a voiceover reminiscing about the dreadful event, as the camera moves in on a memorial water fountain. Then, armed with this portent, we're at the 1970 team's last game, against East Carolina. They lose, but with renewed spirits, 37 players, eight coaches and staff, and a couple dozen "Thundering Herd" boosters board a chartered jet for home in Huntington, W.Va. The planes crashes just prior to landing, and everybody is killed.
It's a heartbreaking occurrence no matter what, but football being what it is in the Ohio Valley -- a community rallying point for hardscrabble towns -- there's a pall cast town-wide. Yet because football is that meaningful, Marshall, under the leadership of Dr. Dedmon (David Strathairn), chooses to re-start the program, in part to honor the loss. In comes coach Jack Lengyel (Matthew McConaughey) tasked with rebuilding the team, and thus providing a form of catharsis for both the school and community.
Director McG, who cut his teeth in music videos and commercials before his big-screen debut, the candy-colored, over-the-top Charlie's Angels, has little gift for subtlety. He gilds nearly every scene with Emotional Meaning, as if we can't extrapolate the tragedy for ourselves. Talismans of unresolved grief that garner frequent close-ups include an engagement ring, a transistor radio and a case of cheap beer. Rains pour, music swells, and many meaningful glances are captured.
McG also casts too wide a net while aiming to represent the entire community, which results in plenty of one-note characters; a stronger film might have focused with more depth on fewer, such as the troubled football players who missed the fatal flight. One of those lads is portrayed by Anthony Mackie, a promising young actor whose few scenes suggest he could have handled more.
Hunched over, charmingly dim and drawling pure Texas out of the side of his mouth, McConaughey as coach Lengyel most resembles Jon Stewart's imitation of George W. Bush. McConaughey is entertaining, but he's something of a jarring note among the film's other cardboard maudlin characters.
Call me hard-hearted, but even after accounting for the rote mechanics of the genre, I found the mining and re-packaging of these real events in such a cheesy and manipulative fashion, amounted to a slightly ghoulish two hours of "entertainment." It's not that Marshall's story doesn't merit a movie -- it just deserves a better treatment.

Starts Fri., Dec. 22.