I have been to Great Wolf Lodge twice. I had not heard of this indoor waterpark/hotel until about a year ago, when my wife suggested we take the kids. With almost 20 locations across the country, the resort is billed as "North America's Indoor Water Parks Resort Hotel." Two weeks ago, we took our second trip to the Sandusky-Ohio lodge. Though I knew exactly what to expect, I came away with a different perspective this time around.
Great Wolf Lodge is like if The Great Northern Hotel from Twin Peaks and Chuck E. Cheese's had a love child. The resort is replete with faux-wood composite that is used for anything and everything from the grand main floor staircases (think of that famous Titanic scene) to the lobby's couches, loveseats, and chairs. They are very committed to the lodge theme. There's a fireplace, a large animatronic theatrical stage, and throngs of children adorned with branded wolf ears. Are you uncomfortable yet?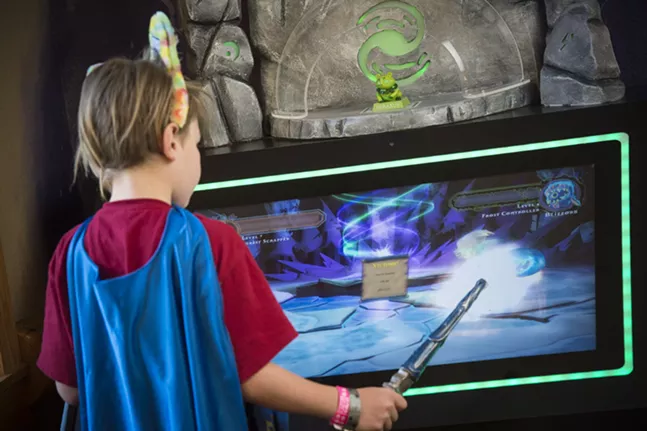 While the business model is understandably marketed toward children, Great Wolf Lodge does its best to cater to adults, too. Upon check-in, you are outfitted with a RFID (radio frequency identification) bracelet that opens your room door, gets you in the waterpark, and charges your room when you need a little hair of the wolf, which you are permitted to carry around just about anywhere in the lodge.
My daughter loves the waterpark, which has a great selection of slides and pools, a lazy river, and the like. My son loves the MagiQuest. If you are still reading, MagiQuest is an "interactive live-action, role playing game where players embark on quests and adventures in an enchanted fantasy world using real magic wands to solve the mysteries of the game." In plain English, kids search for boxes, screens, and framed pictures that may or may not make sounds and light up when they wave their wands at them. Treasure chests open and a strange voice says, "You have found 100 gold." It doesn't ever seem to work properly, and I always get worked up that I don't think we are doing it right. But the kids love it.
Great Wolf Lodge always seemed a bit underwhelming and kitschy to me. But that was before I realized it isn't about me. The waterslides induce pure childhood bliss, and MagiQuest gets my son to don a wizard cape, hat, and carry a wand without thinking twice about it. As adults, it is rare — if ever — that we get to lose ourselves. But getting a chance to see your kids experience that kind of mental freedom is just as good if not better. Because as the animatronic wolf, raccoon, young Davy Crockett, Native American woman, moose, and talking tree will tell you in song, "There's nothing to be scared of" at Great Wolf Lodge.