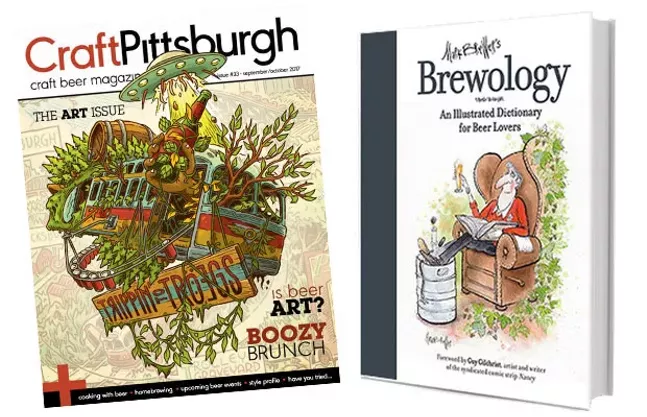 Magazines
Craft Pittsburgh
Launched in 2010, this bi-monthly print mag exclusively covers craft beer in the Pittsburgh area and keeps its finger on the pulse of the city.
Hop Culture
A Pittsburgh-based online magazine launched in early 2017 by Kenny Gould that he calls a "lifestyle magazine for the newest generation of drinkers." It focuses on the local and national beer scene through a millennial lens. www.hopculture.com
Black Brew Culture
Mike Potter's soon-to-be launched online publication centers on introducing people of color to the depths of craft beer and elevating their voices from inside the industry. www.blackbrewculture.com
Podcasts
Drinking Partners
Comics Ed Bailey and Day Bracey both love performing standup and drinking beer, so they thought why not combine the two? Their podcasts feature candid and amusing conversations with local brewers and others. Feel free to pop open a beer and follow along. Check out the last page for more. www.epicastnetwork.com/partnerspod
Craft Beer Radio Podcast
2005 was early in the age of podcasting, and that's when CBR got its start. Pittsburghers Greg Weiss and Jeff Bearer evangelize about good beer from their basement studio and joke like the ol' pals they are. www.craftbeerradio.com
Instagram Accounts
Beer in the Burgh @beerintheburgh
This Pittsburgh local has a formula that works. The posts are highly stylized, mostly of large-format bottles or cans, often poured into glasses with short descriptions or the labels prominently displayed. The mystery 'grammer drinks a lot of local brews and limited releases.
Mark Brewer @markbrewersart
An artist and beer enthusiast, Brewer posts his comics, many of which are beer-centric. He authored Brewology: An Illustrated Dictionary for Beer Lovers and he has an every-other-week column called "What's Brewing" at Pittsburgh Tribune-Review's TRIBLive site.
Pro tip
Following your favorite local breweries on Instagram is always a good way to keep up with new releases and specials.

Twitter
Pittsburgh Beer Guy @BurghBeerGuy
This account tweets and retweets local beer news from many different sources, keeping you up to date on anything breaking.
Bob Batz Jr. @bobbatzjr
This Pittsburgh Post-Gazette reporter brings his keen eye and affable manner to the Pittsburgh craft-beer scene, and often breaks beer news in the city. Follow his twitter to keep up with his coverage.